10 Badass Harley-Davidson Motorcycles For Ultimate Performance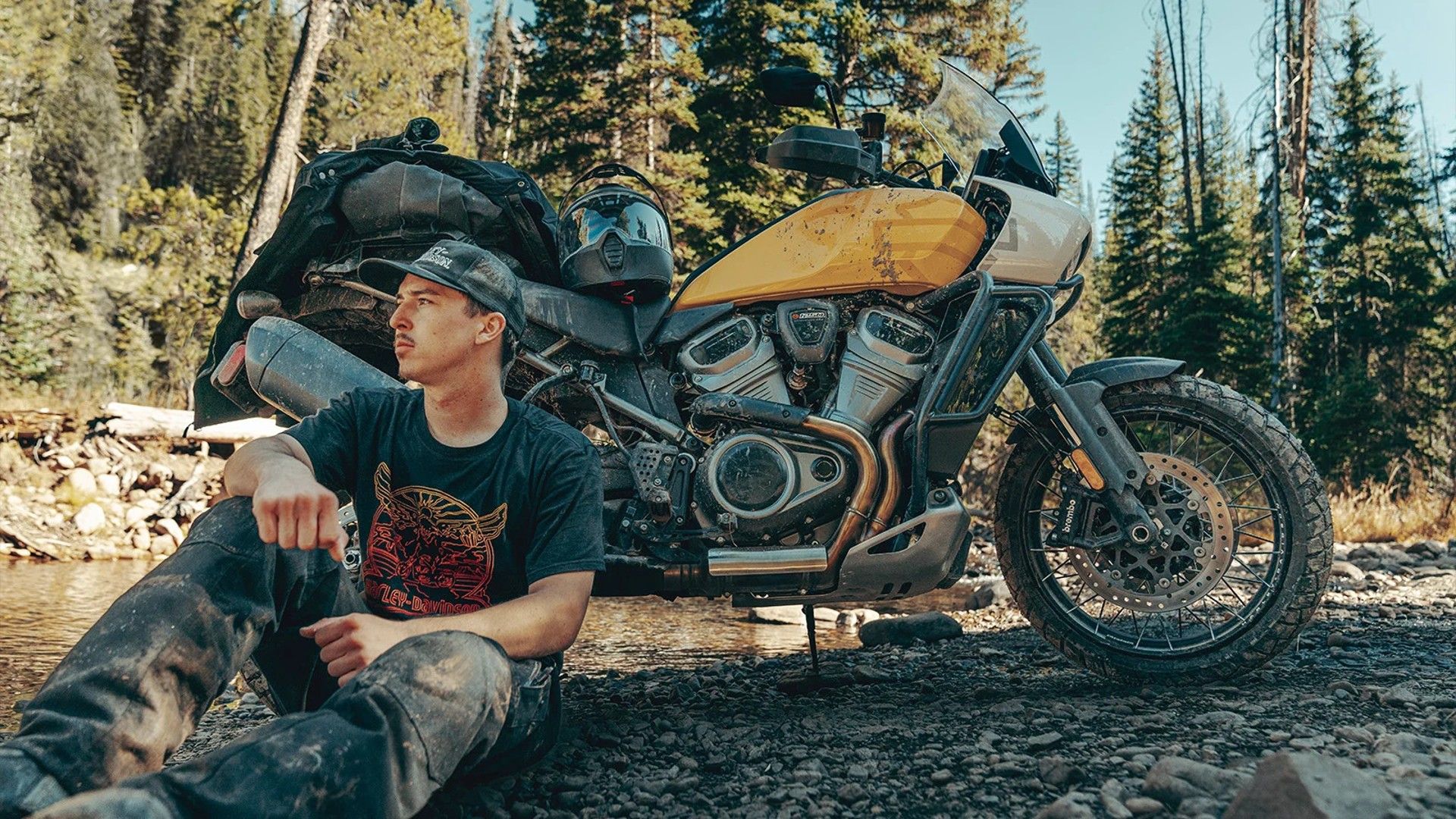 Leather jackets, half-finger gloves, baggy jeans, and abstract tattoos; that's how we usually picture a Harley-Davidson rider. Throughout decades, Harley-Davidson has managed to develop machines that cater to its customers precisely; badass men who own the most powerful engines, go on weekend rides with friends, and drink beer at rodeo cafés. While the stereotype is not entirely accurate, it's safe to say that these riders also have a knack for speed.
After all, their motorcycles have enough onboard torque to go blasting on the highway with a crank of the throttle. Of course, Harley-Davidson motorcycles are perfect for cross-country rides and long-distance highway touring, but some of these machines are nothing but a true testament to an underlying power that riders can unleash whenever they want. Not to mention, these powerful hogs also showcase the American manufacturer's journey from the hills of Milwaukee to the most influential motorcycle brand across the world. This list features the best high-performance Harley-Davidson models that showcase a badass attitude just like the riders who own them.
We primarily fetched information from the official Harley-Davidson press release and other historical archives to compile this list of the most badass motorcycles the American manufacturer ever built.
Related: 10 Best Classic Harley-Davidson Motorcycles
10
2022 Harley-Davidson Sportster S
Power: 121 hp
There's no arguing the fact that Sportster has always remained Harley-Davidson's signature icon for the younger generation. Its middleweight cruiser characteristics and sleek silhouette designed to turn every eye on the road make the Sportster the perfect entry-level Harley-Davidson motorcycle. With the 2022 Sportster S, HD has gone one step ahead in making the motorcycle a true 21st-century cruising beast while still maintaining the nuances of the traditional Sportster family. With Harley's quest to equip the newer generation of their motorcycles with all the necessary electronic components, you'll definitely see more switch controls, resulting in the perfect cockpit view.
The 2022 Sportster S also features some identical elements such as the narrow set of handlebars. Even though they add to the badass characteristics of the motorcycle, they aren't something Sportster riders are used to. Under the neatly designed flat seat sits the Revolution Max 1250T engine, which can produce as much as 120 horsepower at 7500 rpm. On a weekend ride with buddies, just a twist of the throttle can leave them in the dust.
2022 Sportster S Engine Specs
| | |
| --- | --- |
| Engine | Revolution Max 1250T 60-degree V-twin |
| Transmission | 6-speed |
| Maximum Power | 121 hp @ 7500 rpm |
| Maximum Torque | 94 lb-ft @ 6000 rpm |
9
2012 Harley-Davidson FLHR Road King
Power: 67 hp
Harley-Davidson launched the Road King in 1994 and for more than a decade it remained one of the most iconic cruisers in the HD family. In 2012, the HD engineers went beyond their league when they designed the FLHR Road King, a motorcycle that might look like a Boulevard cruiser, but had plenty of features under its hood, making it the perfect long-distance tourer.
A detachable windshield, adjustable air suspension, and a comfortable seating position ensured that riders could cover miles of distance without feeling tired. The two spacious saddlebags featured enough space to pack everything you need for long-distance rides through the remotest towns of the country. However, the FLHR Road King wasn't all just about features. Its 1690cc Twin Cam 103c engine produced a peak power of 67 hp at a relatively lower 5,000 rpm, giving riders an extensive powerband to occasionally crank the throttle on highways. Although the Road King may soon join the list of discontinued Harley-Davidson motorcycles, it's no secret that the FLHR Road King from 2012 would go down as the most beloved long-distance tourer in the HD family.
2012 FLHR Road King Engine Specs
| | |
| --- | --- |
| Engine | 1690cc Twin Cam 103c |
| Transmission | 6-speed cruise-drive |
| Maximum Power | 67 hp @ 5000 rpm |
| Maximum Torque | 99.2 lb-ft @ 3250 rpm |
8
2012 Harley-Davidson Softail Slim
Power: 70.7 hp
If the Harley-Davidson Fat Boy went on a diet, it would look like the Softail Slim. That's how many automotive media houses promoted the Softail Slim in its debut year in 2012. Initially, the lightweight cruiser was designed to be a high-performance highway cruiser that packed enough power to go neck-to-neck with HD's premium cruisers including the Fat Boy.
To achieve this goal, the engineers at HD incorporated many features that made the Softsail Slim an extensively likable cruiser. For instance, it was one of the first Harley-Davidson cruisers to feature the 110ci Twin Cam motor, which did a remarkable job at eliminating the vibrations produced by those giant pistons. Pair this with a comparatively lighter weight, and you have a rocket ship that could launch within seconds. The only downside of the Softail Slim was its surprisingly lower seat height. On sharp turns, you would easily hit the floorboard against the tarmac, making the Softail Slim a headache to own. But, still, it remained one of the highly appreciated Harley-Davidsons of all time.
2012 Softail Slim Engine Specs
| | |
| --- | --- |
| Engine | Air-cooled,1690cc 110 Twin Cam B |
| Transmission | 6-speed cruise-drive |
| Maximum Power | 70.7 hp @ 5100 rpm |
| Maximum Torque | 97 lb-ft @ 3250 rpm |
7
2002 Harley-Davidson Dyna Wide Glide
Power: 67.7 hp
Maintaining a retro silhouette throughout the frame, the 2002 Harley-Davidson Dyna Wide Glide was nothing short of a sight for sore eyes. With a wide-raked fork, spoke wheels, and ape ranger handlebars, every element of the Dyna Wide Glide maintained a retro theme.
In fact, a closer inspection of the Dyna Wide Glide would have indicated the cues it carried from many classic Harley-Davidson motorcycles. However, its retro appearance didn't come in the way of Dyna's on-road performance. The 1449cc V-twin engine was capable of producing a peak power of 68 hp at a lofty 5500 rpm, making highway cruising a comfortable experience for the rider. Despite a longer wheelbase, the Dyna Wide Glide showcased impressive light steering, resulting in better maneuverability than other cruisers.
2002 Dyna Wide Glide Engine Specs
| | |
| --- | --- |
| Engine | Air-cooled,1449cc 45° V-twin, OHV |
| Transmission | 6-speed |
| Maximum Power | 70.7 hp @ 5100 rpm |
| Maximum Torque | 78.1 lb-ft @ 3000 rpm |
6
2023 Harley-Davidson Fat Bob 114
Power: 100 hp
The 2023 Harley-Davidson Fat Bob 114 is undoubtedly a true badass machine the American manufacturer ever built. With elements like fat tires, muscular build, and the roaring Milwaukee-Eight V-Twin engine, the Fat Bob 114 can steal thunder from many modern-day sport bikes. The engine doesn't just perform, it surpasses your expectations, whether you're cruising on a highway or pushing its limits on winding backcountry roads.
With so much power trapped in the Milwaukee-Eight engine, it's clear that the Fat Bob 114 isn't everyone's cup of tea. But, its roaring personality doesn't mean that the Fat Bob is hard to ride. Harley-Davidson has done a remarkable job at creating a balanced power delivery, ensuring riders are always in control. The motorcycle also features powerful dual 300mm discs at the front and a single disc at the rear that can slow down the bike within seconds.
2023 Fat Bob 114 Engine Specs
| | |
| --- | --- |
| Engine | 1868cc Milwaukee-Eight V-Twin |
| Transmission | 6-speed Cruise Drive |
| Maximum Power | 100 hp @ 5020 rpm |
| Maximum Torque | 118 lb-ft @ 3500 rpm |
5
2006 Harley-Davidson VRSCA V-Rod
Power: 120 hp
The 2006 VRSCA V-Rod is the perfect example of marvelous design, sleek performance, and the fact that cruisers don't always have to be slow and comfortable. There were two reasons why this particular model of V-Rod was much appreciated by every motorcycle fanatic in the world. Firstly, it packed a liquid-cooled, Revolution 60° V-Twin engine featuring 4-valves per head that resulted in an exhilarating acceleration that you could do a quarter mile within the blink of an eye. Secondly, Harley-Davidson didn't shy away from going overboard with the chrome treatment throughout the chassis, which made the motorcycle extremely stunning so much so that James Mars­den rode it in the X-men: The Last Stand. Even though the V-Rod has been officially discontinued, it was one of Harley's most valuable contributions to the power-cruiser category.
2006 VRSCA V-Rod
| | |
| --- | --- |
| Engine | 1130cc Revolution 60° V-Twin |
| Transmission | 5-speed |
| Maximum Power | 120 hp @ 8000 rpm |
| Maximum Torque | 74 lb-ft @ 7000 rpm |
4
2021 Harley-Davidson Pan America 1250
Power: 150 hp
In the recent few years, we have seen manufacturers venturing into the world of adventure touring rigs. Harley-Davidson also followed in the same footsteps as it steered away from cruisers and launched its first adventure touring motorcycle – the Pan America 1250. Soon after its launch, the adventure-focused hog garnered the top headlines with many motorheads calling it a direct rival to the BMW R 1250 GS. Fortunately, HD has a loyal worldwide fanbase, and they didn't shy away from taking digs at the latter. Honestly, the 1250 GS has every right to be worried. The Harley-Davidson Pan America features enough features to take any premium adventure tourer heads on. The 1252cc V-Twin engine can produce a peak power of 150 hp, which is far higher than the 130 hp generated by BMW's flat 1254cc engine. Thanks to a complete liquid cooling setup, however, there's a perfect balance between performance and stability. It's the perfect machine for anyone with a knack for adventure-packed rides through tough terrains.
2021 Pan America 1250 Engine Specs
| | |
| --- | --- |
| Engine | 1252cc Revolution Max V-Twin |
| Transmission | 6-speed |
| Maximum Power | 150 hp @ 8500 rpm |
| Maximum Torque | 94 lb-ft @ 6750 rpm |
Related: 10 Reasons Why The Harley-Davidson Pan America 1250 Is The Best Adventure Touring Motorcycle
3
2020 Harley-Davidson FXDR 114
Power: 90 hp
Harley-Davidson cares about its customers; which was pretty evident when it launched the FXDR. This decision was primarily to cater to the customer segment which was on the verge of a breakdown after the company had to discontinue V-Rod in 2017. Fortunately, the company was working on a modern-day power-focused hog that packed everything to replace the brutish cruiser.
Unlike the 1130cc displacement offered in the V-Rod, the FXDR 114 houses an 1868cc Milwaukee-Eight engine, which perfectly aligns with the jet-fighters & drag-racing nuances visible throughout the frame of the big hog. The biggest upside of the FXDR 114 is the improved geometry, which makes it one of the most nimble Harley-Davidsons in the market. Despite its raked fork placement, the FXDR 114 is equal fun on straight highways and winding roads. In the world of power cruisers, the FXDR 114 is definitely sitting at the top position along with its close competitors – the Ducati Diavel and the Triumph Rocket III.
2020 FXDR 114 Engine Specs
| | |
| --- | --- |
| Engine | 1868cc liquid-cooled, fuel injected |
| Transmission | 6-speed |
| Maximum Power | 90 hp @ 4500 rpm |
| Maximum Torque | 119 lb-ft @ 3500 rpm |
2
2022 Harley-Davidson Street Glide ST
Power: 103 hp
Since its debut in 2006, the Street Glide has been the most popular American tourer. The 20222 Street Glide ST continues to carry that legacy forward as it packs more amenities to make long-touring & highway cruising way more comfortable for riders. On a quick overview, you'll notice a compelling mix of style and performance. Its classic design, featuring iconic Harley-Davidson cues, is sure to turn heads whenever you take your Street Glide ST on the highway.
The bike's powerful Milwaukee-Eight 117 engine provides ample torque for seamless highway cruising. Handling is nothing but nimble, with a comfortable riding position and well-tuned suspension that precisely tackles minor potholes. The touchscreen infotainment system is intuitive and user-friendly, adding a modern touch to this classic cruiser. However, some may find the bike's weight a bit daunting at low speeds or in tight spaces. But if you consider its highway prowess and timeless appeal, the 2022 Street Glide ST remains a solid choice for riders who value tradition and the open road.
2022 Street Glide Engine Specs
| | |
| --- | --- |
| Engine | 1923cc 117 ci V-twin |
| Transmission | 6-speed |
| Maximum Power | 103 hp @ 5450 rpm |
| Maximum Torque | 126 lb-ft @ 3750 rpm |
1
2018 Harley-Davidson Fat Boy
Power: 94 hp
In 2018, Harley-Davidson took it upon its hands to do a complete overhaul of its best-selling cruiser – the Fat Boy. This revamp resulted in a more powerful hog, which also weighed nearly 14 kg lighter than the previous generation models. Although the changes were not visible at a quick glance as the silhouette and overall design looked more or less similar to older Fat Boys, but it was under-the-skin changes that made the 2018 Fat Boy a power-packed beast.
For instance, Harley-Davidson switched to the 1,745 cc, Milwaukee-Eight V-twin engine featuring 4-valves per cylinder. The onboard torque was sufficient to ensure riders didn't just ride, but roar through the streets. The lighter frame further added to the prowess of the Fat Boy, making it a fun-to-ride cruiser for anyone. Even beginners could get going with the 2018 Fat Boy without worrying about its cumbersome structure.
2018 Fat Boy Engine Specs
| | |
| --- | --- |
| Engine | 1745cc Milwaukee-Eight 10 |
| Transmission | 6-speed |
| Maximum Power | 94 hp @ 5020 rpm |
| Maximum Torque | 119 lb-ft @ 3000 rpm |
link