10 Ducati Motorcycles That Are Now Worth A Fortune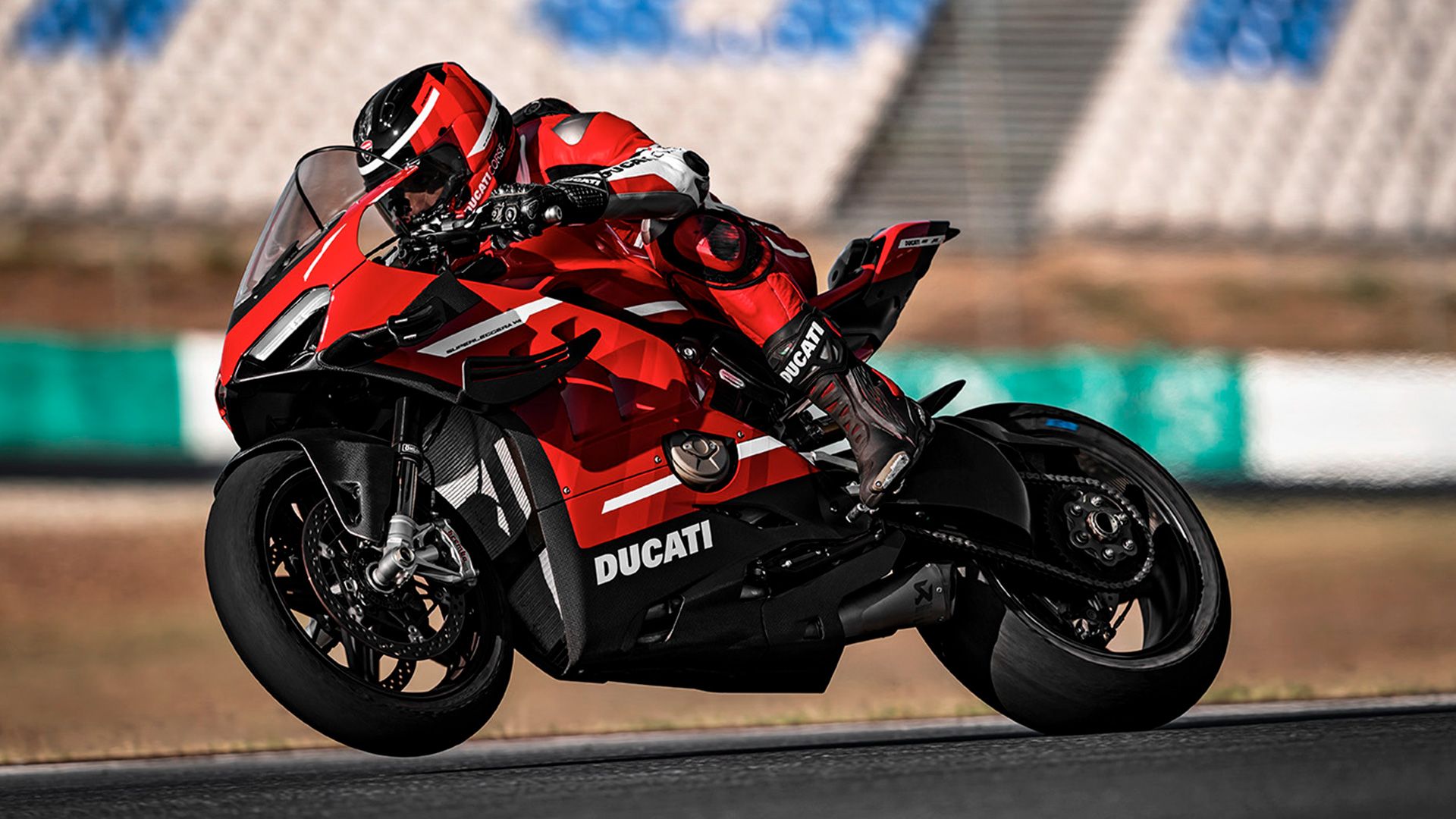 The history of Ducati might have started first with radio components and then a 50cc engine bolted onto what was not much more than a bicycle frame and wheels, but it would be fair to say that the impact Ducati has had on the world of motorcycling is out of all proportion to its production figures since 1946, which probably represent about a month's total production of Honda motorcycles. With such small production numbers, many Ducatis are extremely rare, even without factoring in the limited-edition models that started appearing in the 1990s and, therefore, incredibly valuable, if you can find one to buy, that is.
Related: Love The Ducati 916? Then, This Exclusive Panigale V4 Is Made Just For You!
10
2024 Ducati 916 Anniversary Edition Panigale V4
Current Value: $45,995
In Ducati folklore, the 916 stands head and shoulders above any other model. It arrived in 1994 and lasted until 1998, when the revised 996 and later 998 carried on the development curve before the all-new 999 arrived in 2003. The 916 was the model that put Ducati onto the path of huge World Superbike success (see the Ducati 916 SPS Foggy Replica below) and beyond, right up to the Panigale V4 of today. So beloved is the 916 that Ducati saw fit to celebrate the 30 year anniversary of its release in 2024 with a limited edition Panigale V4 R, which is the World Superbike homologation model, complete with a 998cc V4 engine producing 214 horsepower and weighing 381 pounds. It will set you back a cool $50,000.
Specifications
| | |
| --- | --- |
| Engine | 998cc V4 |
| Power | 215 horsepower |
| Torque | 91 pound feet |
9
2021 Ducati V4 Superleggera
Current Value: $100,000
Ducati knows a thing or two about building low-volume, exclusive and super-expensive motorcycles. The Desmosedici RR, the 1199 Superleggera and 1299 Superleggera were all such bikes but we've chosen the latest Superleggera V4 for this list for no other reason than it's the latest model. Superleggera is Italian for 'Super Light' and that's exactly what this model is, using carbon fiber and titanium extensively to bring the weight down to 336 pounds (dry), while the World Superbike homologation 998cc V4 engine pushes out 234 horsepower at a screaming 15,500rpm. It's a no-expense spared superbike, which would account for its price tag of $100,000, if you're lucky enough to get your hands on one of the 500 produced, that is.
Specifications
| | |
| --- | --- |
| Engine | 998cc V4 |
| Power | 238 horsepower |
| Torque | 87 pound feet |
Related: Ducati Superleggera V4: 10 Facts You Need To Know
8
2018 Ducati 1299 Panigale R Final Edition
Current Value: $39,900
In addition to knowing how to build low-volume, super-expensive models, Ducati is also a dab hand at building desirable run-out models. There have been numerous Final Edition models, but we've chosen the last of the V-Twin-engined Ducati sports bikes for this list, simply because it represents the end of an era. The 1299 Panigale R Final Edition was the ultimate expression of Ducati's V-Twin superbike: blisteringly fast, epic handling and braking power, delicious detailing, huge electronics package and an eye-watering price tag of $39,900 in 2018. Don't expect to be able to pick one up for less than that today!
Specifications
| | |
| --- | --- |
| Engine | 1,285cc V-Twin |
| Power | 209 horsepower |
| Torque | 104 pound feet |
7
2006 Ducati Desmosedici RR
Current Value: $50,000 – $80,000
Ducati entered Grand Prix racing full time in 2003, after the rules had been changed to allow engines up to 990cc. In 2004, Ducati announced it would be building a low-volume road-legal replica of its MotoGP bike, slated to appear in 2006/2007. 1,500 were to be built and would be powered by a V4 engine, developing 200 horsepower with the optional race ECU and exhaust fitted. Carbon fiber was used everywhere apart from the steel trellis main frame and forged magnesium wheels were the first to be fitted to a production Ducati. Ducati's timing was perfect as Casey Stoner won the MotoGP title in 2007 on a Ducati GP7 and the Desmosedici ('Desmo' for the valve actuation and 'sedici' – Italian for 'sixteen' because there were sixteen valves) became an instant collectors' item.
Specifications
| | |
| --- | --- |
| Engine | 989cc V4 |
| Power | 200 horsepower |
| Torque | 85 pound feet |
6
2004 Ducati Testa Stretta NCR Macchia Nera Concept
Current Value: N/A
Not an official Ducati model, but as it was conceived and built by NCR, which was once Ducati's official racing partner, it deserves a place on this list, if only for its exclusivity: one-of-one is about as exclusive as you can get! Taking the engine and electronics from the 998R, with 180 horsepower, NCR built virtually everything out of titanium and carbon fiber and did away with the fairing, to give a weight of a mere 297 pounds, with explosive performance to match. You'll probably never find this bike for sale but, if you do, don't expect much change from $200,000.
Specifications
| | |
| --- | --- |
| Engine | 998cc V-Twin |
| Power | 180 horsepower |
| Torque | N/A |
5
1998 Ducati 916 SPS Foggy Replica
Current Value: $60,000
Ducati had tasted World Superbike success with the 851 and 888 models, but arguably the greatest years were from 1994 to 1998, when the 916 won four titles on the trot, one going to Australian Troy Corser and three to one of the most spectacular racers of all time, Carl Fogarty. His on-track battles with the likes of Aaron Slight and Troy Corser set the series alight and Ducati wasted no time in producing a commemorative model, the 916 SPS Foggy Replica in 1998, the last year of 916 production. 124 horsepower seems tame in comparison to today's 200+ horsepower rockets, but Ducati couldn't build enough of them to satisfy demand and today a good one will set you back at least $60,000.
Specifications
| | |
| --- | --- |
| Engine | 996 V-Twin |
| Power | 123 horsepower |
| Torque | 73 pound feet |
4
1979 Ducati 900 SS Mike Hailwood Replica
Current Value: $50,000
In 1978, Mike Hailwood, often cited as the greatest motorcycle racer of all time, had been retired from two-wheeled racing for 11 years. But that 'retirement' had been rather forced upon him, and he felt there was unfinished business. So, he duly announced he would be competing in the 1978 Isle of Man TT races. One of the bikes he would be riding was a Ducati 900 Super Sport, prepared by a small Manchester, England motorcycle workshop. In a fairy tale ending, Hailwood won the Formula 1 TT race on the Ducati and, to commemorate this achievement, Ducati released a replica of his race-winning bike, complete with full fairing and a striking red and green color scheme. Between 1979 and 1986, just over 7,000 were produced and command at least $50,000 today.
Specifications
| | |
| --- | --- |
| Engine | 864cc V-Twin |
| Power | 80 horsepower |
| Torque | 63 pound feet |
Related: Top 10 Best-Looking Isle Of Man TT Race Bikes
3
1974 Ducati 750 Super Sport
Current Value: $189,000
In 1971, Ducati introduced its new 90° V-twin engine to the world in the 750GT and 750 Sport models. In 1972, a racing version of the bike won the Imola 200-mile race and Ducati marked the occasion by producing a replica version, called the 750 Super Sport, featuring a half-fairing and glass fiber gas tank, with a see-through stripe allowing the fuel level to be seen. The 'round case' engine featured desmodromic valve cylinder heads, but they were uneconomical to produce, so 1974 was the only year of production of the bike in this form. However, the 1974 model bike is considered to be the most significant production bike in Ducati's history, mostly because it offered the highest standards of handling and performance available at that time. One sold at auction in 2023 for $189,000.
Specifications
| | |
| --- | --- |
| Engine | 748cc V-Twin |
| Power | 70 horsepower |
| Torque | 52 pound feet |
2
1972 Ducati 750 Sport
Current Value: $50,000 (Pristine Condition)
Ducati's first V-twin motorcycle was the 750GT of 1971. This had standard roadster styling and a wild metal flake paint job. But Ducati was just as interested in the sports bike market and, a year later, unveiled the 750 Sport. This used the same 750cc V-Twin engine but was tuned to give more power (62 horsepower compared to 57), had clip-on handlebars and rear set foot pegs and was available with a half-fairing and twin front discs as options. It was the most powerful and fastest road bike Ducati had ever produced, and it was the 750 Sport that was developed into the Imola race bike that, in turn, gave rise to the 750 Super Sport model. Good 750 Sports can sell for up to $50,000.
Specifications
| | |
| --- | --- |
| Engine | 748cc V-Twin |
| Power | 66 horsepower |
| Torque | 50 pound feet |
1
1965 Ducati 125cc Four Cylinder Grand Prix
Current Value: $489,000
Prior to the MotoGP era of motorcycle Grand Prix racing, Ducati had very little GP success, but not for want of trying. Relying on single and twin cylinder models in the 1950s had brought no great success and the Japanese multi-cylinder bikes had shown the way forward in the smaller classes. To that end, Ducati engineer Fabio Taglioni designed a four-cylinder, 125cc racing engine but, by the time it appeared in 1966, Honda had moved the game on again with its five-cylinder 125cc machine and the Ducati was never raced. It was discovered behind the Iron Curtain decades later by Giancarlo Morbidelli, who restored it to working order. It was up for auction in 2020 but failed to reach its reserve price of £400,000. If it had sold, it would have been the most expensive Ducati ever.
Specifications
| | |
| --- | --- |
| Engine | Inline four cylinder |
| Power | N/A |
| Torque | N/A |
Sources: MCN, Bonhams, Cycle World and Iconic Motorbike Auctions
link