10 Fastest Production Motorcycles Currently On Sale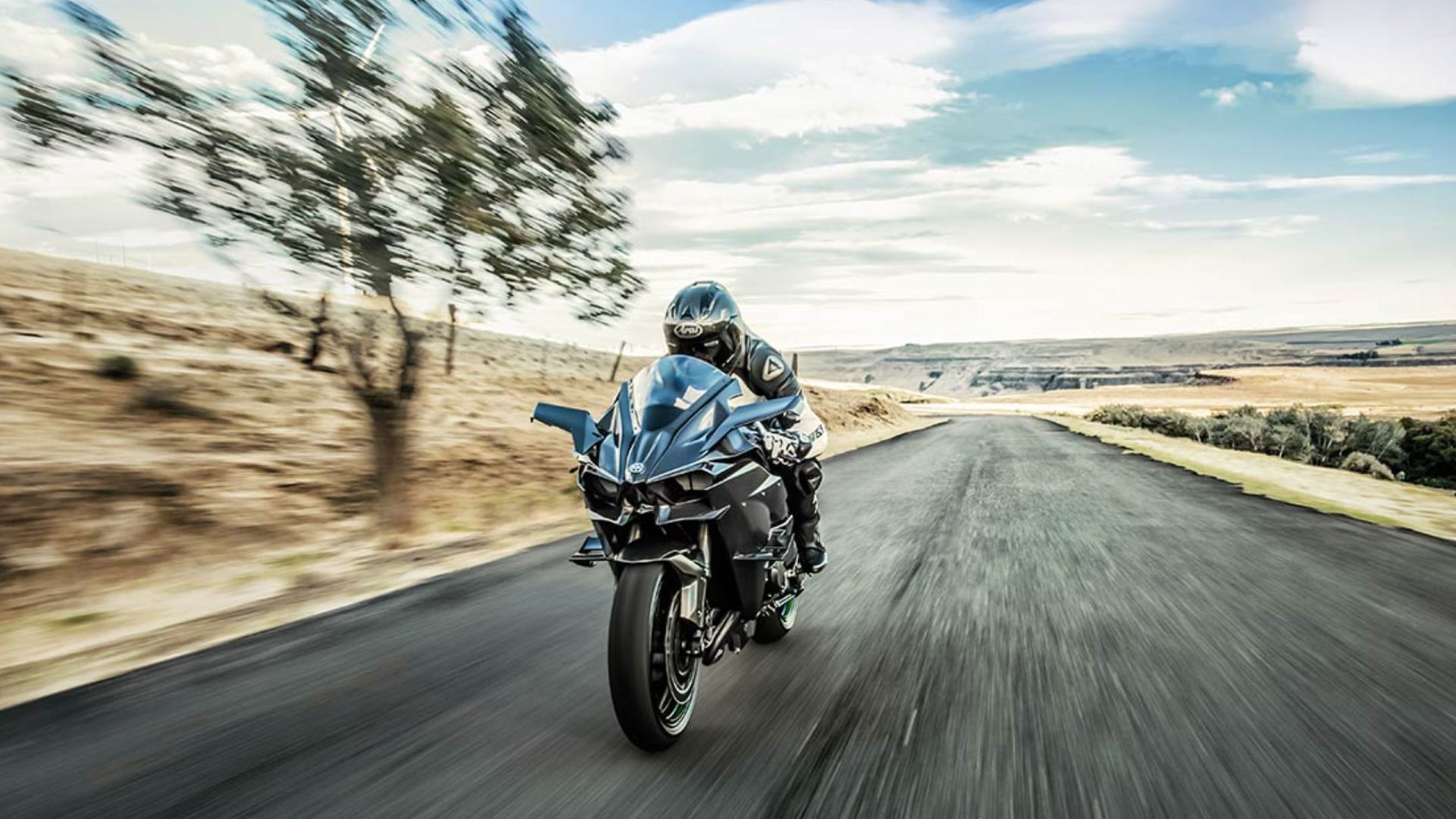 Speed isn't always the priority for those shopping for a new motorcycle. However, for some riders, speed and performance is the lifeblood of their motorcycle riding passions. They live for the roar of the engine when you twist the throttle. Their heart beats faster as the speedometer climbs, the wind whips around them, and they feel the pure mechanical power beneath them. The adrenaline pumps through their veins as they tuck down to the tank and become one with the bike. Or maybe they're addicted to the insane torque of the futuristic electric motor underneath them. One thing is for sure, these machines are untamable, and it takes a special kind of rider to bring out the best in them. And though a lot of these bikes have been board leaders for a long time, there are a few surprising new entries to keep your eye on.
Updated April 2023: Manufacturers are releasing new, lightning fast models all the time. At the same time technology is taking massive leaps forward on electric motorcycles as well. In order to keep our readers up to date, we'll periodically update this article with the latest news on the fastest motorcycles on sale right now.
RELATED: The 10 Best Sport Bikes In The World
10
Suzuki GSX-R1000 – 173 mph
Suzuki's GSX-R motorcycles have a long and speedy history, starting in the 1984 when Suzuki released the first model, the GSX-R400. From then on, the GIXXERS, as they're known by the sport bike community, racked up a bunch of racing records, making them one of the fastest motorcycles of that decade.
Today, there's tough competition for the GSX-R1000, including from Suzuki's own stable. But the venerable bike can pull its own weight with no problem, reaching 170 mph and beyond with its 998-cc, 150 hp, four-cylinder engine.
9
MV Agusta Brutale 1000 RR – 186 mph
MV Agusta knows a thing or two about speed. It's in their DNA. And now its in their completely bonkers-looking Brutale 1000 RR. There's simply nothing quite like it on the street. Its design is angular, geometric and futuristic, but that doesn't hinder its performance.
The four-cylinder, 998-cc engine produces an astonishing 208 hp and tops out at 186 mph. And judging from its looks, you'd think it weighs upwards of 500 lbs. But its dry weight is a measly 410 lbs. This thing, for the lack of a better term, will annihilate anyone on the racetrack. And you will have to take to the track, because it will be unusable on your daily commute. It'll snarl at you with great impatience between every red light you hit.
8
Suzuki Hayabusa – 186 mph
The Hayabusa is the bike that sparked a speed war and subsequent Gentlemen's Agreement. Upon hitting the streets in 1999, the Hayabusa hit speed records that riders previously never even dreamed of. The bike may be divisive in its design and aesthetics, but no one cared what the Hayabusa looked like when it was nearing 200 mph.
Helping this monster be one of the kings of speed is the 1340cc four-cylinder engine. Since its introduction in 1999, horsepower has increased by 12 horsepower. It can rocket from 0-60 in 3.2 seconds. However, it does comply with the Gentleman's Agreement. A limiter, in everyone's bike other than Guy Martin's, stops you at 186 miles per hour.
Related: TTS' Supercharged Suzuki Hayabusa Just Broke The 215-MPH Barrier
7
Honda CBR 1000RR-R Fireblade SP – 186 mph
When the Fireblade hit the market 30 years ago, it rocked everyone's world. The latest CBR 10000RR-R Fireblade SP has an overhauled engine for maximum velocity and midrange performance. It is a 999cc liquid-cooled inline-four engine with dual-stage injection. The engineers also tuned the bike in accordance with HSTC calibration data from the racers on Honda superbikes. This gives the bike a strong punch out of the slow corners and stronger mid-range power. Thanks to all the tuning and tweaking, the Honda CBR 1000RR-R Fireblade SP hits 0-60 in 3.13 seconds and can achieve a top speed of 186 miles per hour.
6
Yamaha YZF-R1M – 186 mph
With a 998cc liquid-cooled engine, the YZF-R1M is a powerful superbike. We have MotoGP to thank for the impressive performance technology and ability this bike possesses. Everything from the brakes and tires to the GPS data logging from Yamaha's MotoGP program.
The engine has a high-performance intake system, titanium exhaust system, compact stacked transmission, refined rocker arm valvetrain, and high output technology. Engineers took information from the world's top riders on the most challenging race circuits. The result is a bike that's capable of achieving 186 miles per hour and 0-60 time of 2.64 seconds.
5
BMW S 1000 RR – 188 mph
Some riders may dismiss BMW motorcycles as soulless machines, designed to perfection in a lab and without any character. But those of us that know better, can appreciate BMW's single-minded, laser focus on delivering the goods that we all crave. And then there's the restrained and sophisticated refinement that comes with a BMW motorcycle, which you ultimately see it in the S1000 RR.
While the BMW S 1000 RR isn't the fastest bike on this list, it flies past the industry standards and rightfully takes its place among other sport bikes. This light and nimble racer comes with a 999cc liquid-cooled engine with dual-stage electronic fuel injection. What helps this bike perform better through the curves is the diagonally mounted engine. This keeps the center of gravity lower. Off the line, you can get to 60 miles per hour in 3.1 seconds and reach a top speed of 188 miles per hour.
4
Aprilia RSV4 – 191 mph
The elegant styling of this bike can distract you from its performance abilities. The Aprilia RSV4 used to have a 1077cc engine but now has a 1099cc liquid-cooled DOHC 65-degree engine with six ride modes to choose from. There are three restrained modes for the street and three track modes for when you're ready to see what this bike can really do.
Plus, there's a laundry list of fancy performance features that include things like traction control (ATC), launch control (ALC), wheelie control (AWC), and engine brake control (AEB). What makes this bike a standout is its power-to-weight ratio which enables it to get to 60 miles per hour in 3.1 seconds. You can also hit the track to experience its top speed of 191 miles per hour.
3
Ducati Panigale V4 R – 198 mph
The Ducati Panigale V4 R is a bike developed from Ducati's entrant for the 2019 World Superbike Championship. It features classic sport fairings in the iconic Ducati red. You will see other MotoGP features like winglets that help channel air around the bike and rider when traveling at high speeds.
However, you can buy it with an optional race package that increases the engine's horsepower. In the right conditions, the Panigale V4 R beats out other bikes on this list by getting to 60 in three seconds flat and then on to a top speed of 198 mph.
RELATED: 10 Reasons Why The Ducati Panigale V4 Is The Best Sport Bike
2
Damon Hypersport Premier – 200 mph
Damon's been around for only a hot minute, but they've already been able to do more to get people excited for electric motorcycles, than Harley and Zero combined. Their focus is primarily on motorcycle safety technology, with their groundbreaking CoPilot system. It sees everything around you and alerts the rider about dangers they may not be aware of. The bikes also have interesting ergonomic systems that can be electronically adjusted to every rider.
But that's not why Damon's HyperSport Premier is exciting. It's the specs they've been able to pull out of their electric motors. Everything is 200. The bike's combined range, horsepower and top speed are claimed to be 200. Time will only tell if this is a gimmick or not. According to their own press release, Damon be delivering the HypserSports in 2023. And only after that will we be able to tell if these figures are actually real. But even if they're off just a bit, having that kind of speed, with that kind of range on an electric bike is a game changer indeed.
1
Kawasaki Ninja H2R – 249 mph
There's some deep history associated with Kawasaki's H2 moniker. The Japanese manufacturer produced the H2 Mark IV back in the 1970's and were able to thoroughly disrupt the motorcycle scene. It was fast. It was good-looking. And it was utterly insane to ride. Fast-forward to the present day, and the fastest motorcycle Kawasaki currently produces, is the H2R. The H2R makes the Ninja ZX-14 look like it is standing still, because the H2R is the fastest production motorcycle on the market. However, it is a track-only bike, and if you are looking for a street-legal motorcycle, the H2 version is your bike.
Powering the H2R is a 998cc supercharged four-stroke engine. In the right conditions, a rider who knows what they are doing can hit top speeds of 206 to 249 miles per hour with the 310 horsepower this powerful engine produces. What helps the H2R stand out is the centrifugal supercharger that produces less heat without sacrificing power.
link