10 Great Automatic Motorcycles You Can Buy In 2023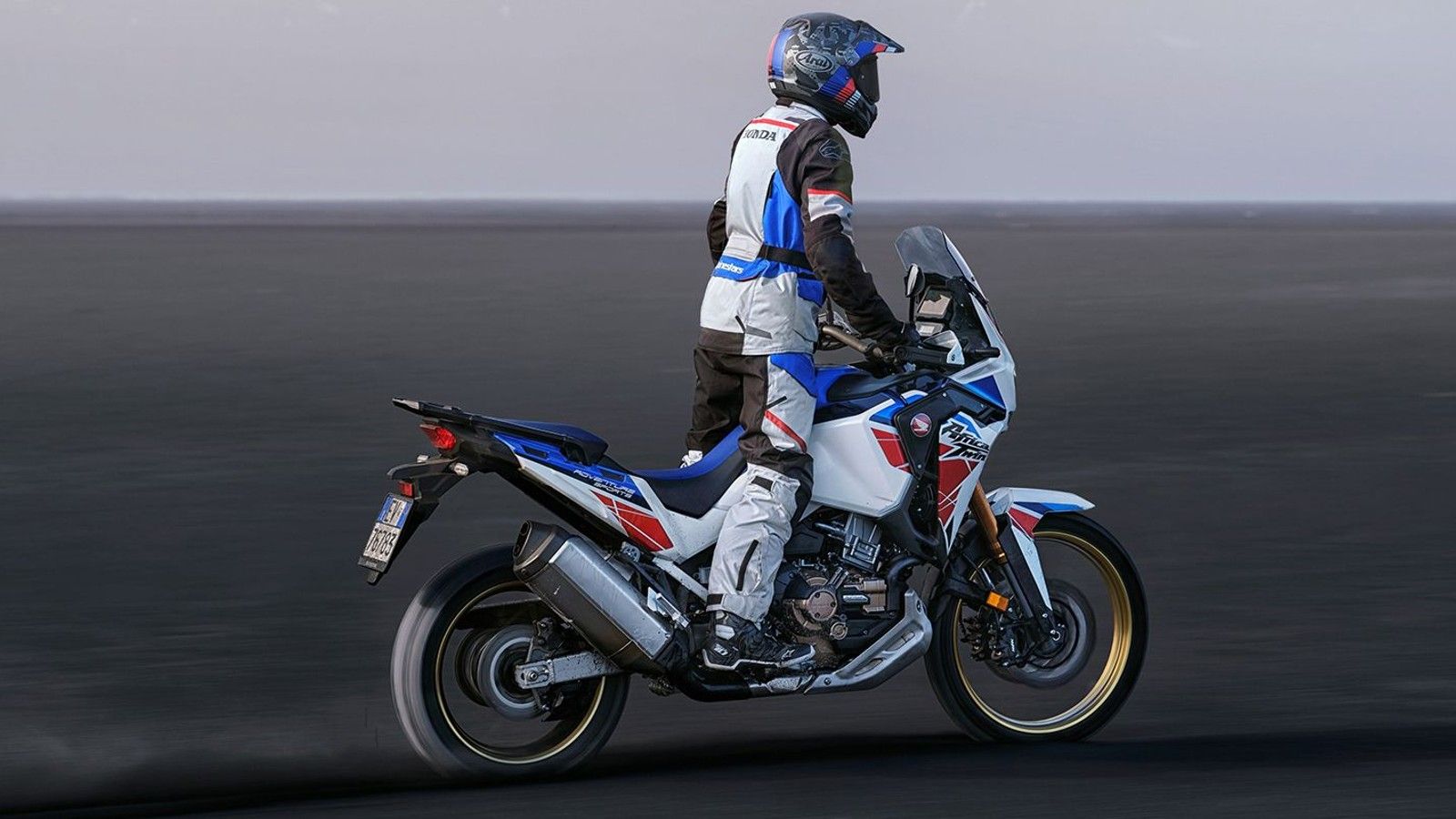 In the automotive world, manual gearboxes fell out of favor a long time ago, to the point where it is difficult to find a car with a manual gearbox. Which is OK, as the modern six, seven or eight-speed auto gearbox is, in many cases, much better than their manual counterparts and nothing like the dire two- or three-speed automatics cars were saddled with for decades.
Motorcycles are a different matter altogether and have remained stubbornly manual for the majority of their existence, and it is only now that automatic gearboxes are becoming commonplace, with Honda leading the charge with its dual clutch transmission (DCT). Of course, scooters have been fully automatic or at least semi-automatic forever and the new breed of electric motorcycle is also automatic in that they have one 'gear'. Therefore, any list has to be a blend of motorcycles, scooters and electric.
Related: KTM's New Automatic Transmission Has A Neat Trick
10
Honda Gold Wing DCT
From $25,600
The very type of bike that has been crying out for an automatic gearbox for too long, the Gold Wing was a natural fit for Honda's pioneering dual clutch transmission (DCT). In its current form, the Gold Wing has to be a contender for best touring bike on the planet, with every conceivable bell and whistle, innovative suspension, not to mention the incredible flat-six engine which has enough power and torque to work well with the DCT, the very nature of the bike matching seamless shifting perfectly. As the name suggests, there are two clutches, one for first, third, fifth and seventh gear and one for second, fourth and sixth gear. Having been developed by Honda, it is both faultless and seemingly bullet-proof.
| | |
| --- | --- |
| Engine | Flat six cylinder |
| Power | 124 horsepower |
| Torque | 125 foot pounds |
| Weight | 859 pounds |
9
Honda Africa Twin DCT
From $15,299
If the Gold Wing was an obvious fit for DCT, then there were more furrowed brows when Honda announced a DCT-equipped adventure bike, where the very nature of the type of riding it would be doing involves a deft hand with the clutch lever in tricky or technical situations. Honda obviously knew what it was doing because the DCT-equipped Africa Twin has proven to be every bit as capable as its manual stablemate, even if it does take a period of adjustment to learn to ride it off-road. As with all the Honda DCT models, there is the option of semi-manual gear changes via two 'triggers' on the left-hand handlebar, although there is still no clutch lever. With DCT, the one last barrier to riding an adventure bike has been removed for those who are manual-change challenged.
| | |
| --- | --- |
| Engine | Parallel twin cylinder |
| Power | 100 horsepower |
| Torque | 77 foot pounds |
| Weight | 520 pounds |
Related: 10 Things To Know About The Honda Africa Twin CRF1100L
8
Honda Rebel 1100T DCT
From $11,299
Oh, look: another Honda, and not the last on this list. It makes sense, of course: if you've spent millions of dollars (or Yen) developing new technology, then you want a good return on your investment, and you will only get that by equipping as many models as possible with it. The Rebel 1100 uses the engine from the Africa Twin so there was no extra engineering involved to incorporate DCT and, as with the Gold Wing, this application makes a lot of sense. The Rebel 1100T is the more touring oriented Rebel model, and it shares all the easy-riding attributes of the base Rebel 1100, which means punchy performance in a chassis that has a more dynamic feel than many cruisers out there.
| | |
| --- | --- |
| Engine | Parallel twin cylinder |
| Power | 85 horsepower |
| Torque | 72 foot pounds |
| Weight | 513 pounds |
7
Honda NC750X DCT
MSRP: $9,399
Honda's NC750 is a typical product of that company: practical, beautifully engineered and ever so slightly dull and anonymous. But that's fine, as it matches what a lot of people want from a motorcycle: a means of transport first and foremost. Honda has placed the NC750X into its Adventure category which is a stretch given the lack of ground clearance or long-travel suspension. What can't be denied is that, as a do-it-all, easy to ride motorcycle, with a surprising turn of performance, excellent comfort, built-in storage and good equipment, including the DCT gearbox, it is a lot more than the sum of its parts.
| | |
| --- | --- |
| Engine | Parallel twin |
| Power | 57 horsepower |
| Torque | 59 foot pounds |
| Weight | 493 pounds |
6
LiveWire One
MSRP: $22,799
Oooh, not a Honda! The pedants among you will argue, given that this is an electric bike that runs a permanent magnet electric motor that has only one gear, that it doesn't qualify but as you can shift it into reverse, we're claiming victory on this one. It is expensive, but you get Brembo and Showa components and a well-sorted chassis, so the handling matches the seamless electric urge. Livewire claims a 145 mile range but that obviously depends on how you ride it and charge time can be as low as 60 minutes. Electronic rider aids include four riding modes and cornering ABS and traction control which is essential with instant torque from a standstill.
| | |
| --- | --- |
| Engine | Electric motor |
| Power | N/A |
| Torque | 86 foot pounds |
| Weight | 549 pounds |
5
Honda Trail 125 – $3,999
Back to Honda, but at least it's a different breed of automatic gearbox. Strictly speaking the Trail 125, like the Super Cub from which it derives, is semi-automatic, with a gear lever and an automatic centrifugal clutch – simply stamp it into gear and twist the throttle – but seeing as how it was originally designed to enable anyone to jump on and ride with no previous experience, it deserves its place on this list. 125ccs of power isn't going to break any records and the off-road ability is limited but if you ride this, and it fails to put a smile on your face, then you need your blood pressure checking.
| | |
| --- | --- |
| Engine | Single cylinder |
| Power | 8.7 horsepower |
| Torque | 8.1 foot pounds |
| Weight | 265 pounds |
Related: 1000 miles across Alaska on a 1975 Honda CT90 and a 2021 Honda Trail 125
4
Can Am Ryker
MSRP: $8,999
We'll ignore the argument that anything with more than two wheels isn't a motorcycle, even though you're exposed to the same weather. Can Am have arguably been the most proficient exponent of the trike (or is it a reverse trike, with two wheels at the front?) and the entry-level Ryker is equally arguably one of the best models in the line-up, featuring a CVT (continuously variable transmission) as found on most twist-and-go scooters. There are two versions, with either a 600cc parallel twin engine with 47 horsepower or a 899cc three cylinder 77 horsepower engine, which gives satisfying tire-spinning take-offs. No leaning in corners but still plenty of wind-in-your-face fun at the twist of your right wrist.
| | |
| --- | --- |
| Engine | Three cylinder inline |
| Power | 82 horsepower |
| Torque | 58 foot pounds |
| Weight | 616 pounds |
3
Energica Ego RS
MSRP: $32,636
Striking a new note in the electric motorcycle field is Italian company Energica, who supplied the first round of electric race bikes to the MotoE series that shadows MotoGP. The Ego RS is the top-of-the-range sports road bike, simply oozing quality with the very best components and simply incredible performance that will have 1000cc sports bikes gasping to match – while the battery lasts, that is! Energica claim 261 miles of city riding range, but who ever confined their sports bike riding to the city? Give it full beans out on the open road, and you'll find your fun curtailed before 100 miles is on the clock but when the fun is that intense, with not a gear change in sight, who cares?
| | |
| --- | --- |
| Engine | Electric motor |
| Power | 134 horsepower |
| Torque | 118 foot pounds |
| Weight | Not available |
2
BMW CE 04
MSRP: $14,180
Despite the move to electric drive for automobiles, the motorcycle world has been slower to adopt it, especially among established manufacturers. BMW has investigated the electric avenue for its large scooters and the CE 04 is the latest and, by a long way, the wildest and most futuristic. Again, like the LiveWire, the electric motor is the gearbox, so there's nothing to do but twist the throttle and revel in the acceleration. It's heavy – 509 pounds – but the weight is worn low down, so you really don't feel it, range is 81 miles which is more than enough for the daily commute before charging it overnight on your standard home electricity.
| | |
| --- | --- |
| Engine | electric motor |
| Power | 42 horsepower |
| Torque | Not Available |
| Weight | Not Available |
1
Kymco AK550i ABS
MSRP: $10,399
Kymco has been on U.S. soil since 2001 and, in that time, has cemented an excellent reputation for well engineered and thought out small-displacement motorcycles. Having said that, the AK550 maxi-scooter is one of the larger-engined such scooters on the market at the moment. The engine is a parallel twin of 550cc, developing 53 horsepower, delivered at the twist of your wrist. Huge and comfortable seats, low center of gravity, lots of storage space, excellent safety and punchy performance make this so much more than an urban commuting motorcycle: without breaking a sweat, it could cross continents, with not a gear change in sight…
| | |
| --- | --- |
| Engine | Parallel twin cylinder |
| Power | 52 horsepower |
| Torque | 41 foot pounds |
| Weight | 498 pounds |
link