10 Most Underrated Motorcycles Of The Decade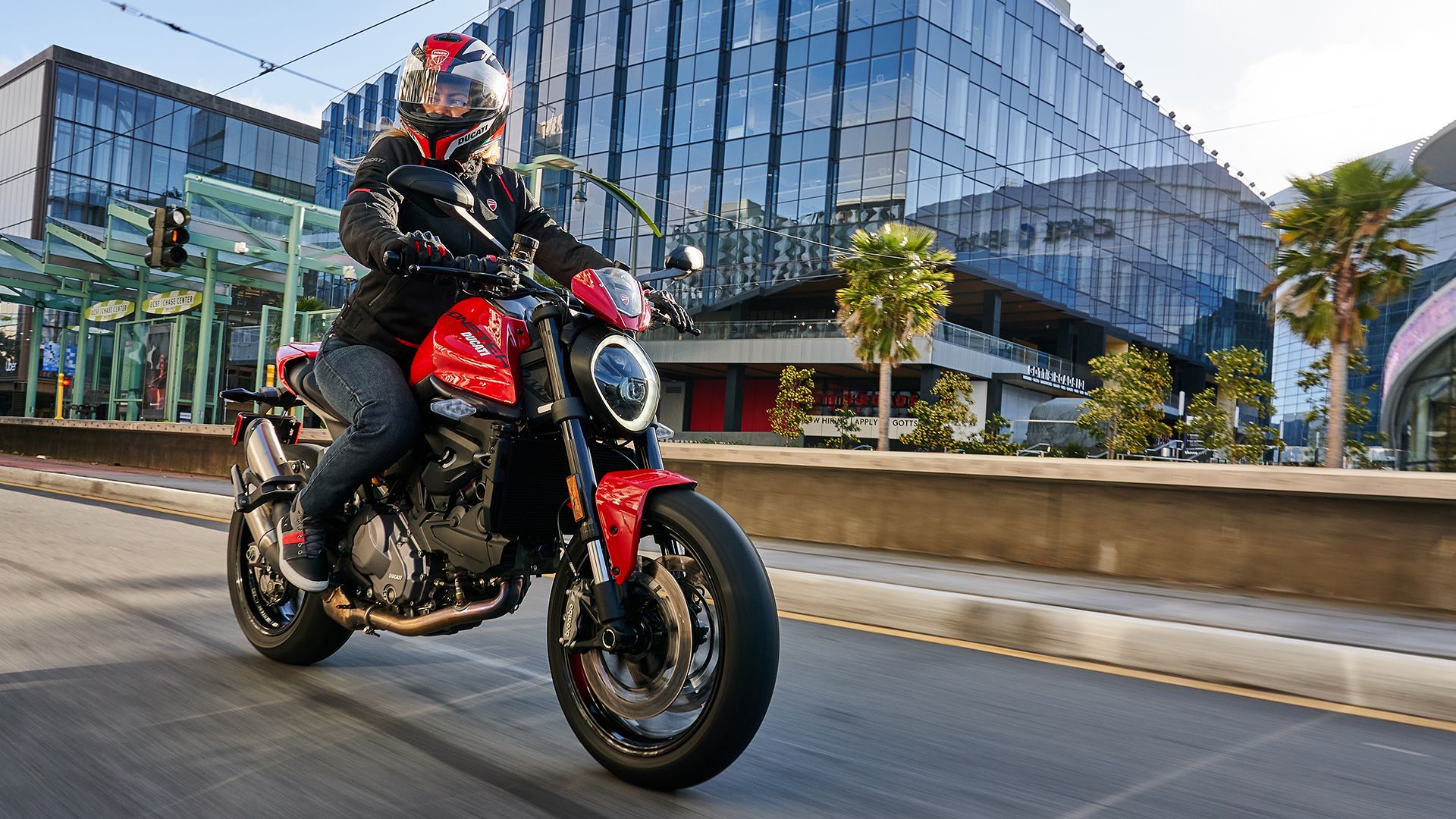 The 2020s is a roller coaster ride that has changed the way we live, experience things, and see the world. And this evolution has trickled down to the motorcycling industry as well, with more and more brands experimenting with their products and pushing the boundaries of what's expected of them. Some motorcycles have hit the mark, and many have completely missed it, but there are a few select motorcycles that have hit the mark but no one saw them.
If a tree fell in a forest, but you weren't there to see it, did it make a sound? If we're talking about motorcycles, damn right — the tree did make a sound. That's the principle these underrated motorcycles of the decade are working on. They are some of the most capable, exciting, and amazing motorcycles we've ever seen, but they are unfortunate enough to go under the radar. But let's ensure that's not the case as these motorcycles deserve to be loved, ridden, and remembered by the community. If our gut is true, many of these motorcycles are going to be future classics, too!
Looking at the data from manufacturers, forums, and personal experiences, we have put together this list of ten most underrated motorcycles of the current decade.
Related: Best Sports Bikes Of The 2010s
10
Harley-Davidson Sportster S – 2021
Harley-Davidson motorcycles are often associated with low-slung, slow-revving, laid-back cruisers, but the Sporters S is not that. It's more of a sport-naked bike wrapped in a cruiser aesthetic. Of course, these things were overshadowed by the lack of the signature "potato" sound; the new 1250 Revolution engine makes a much raspier sound — it still sounds terrific in our books, but it's not a Harley sound. The looks are a hit or miss on most bikers, but it looks polished and modern, as you'd expect contemporary Harleys to look like. While the brand missed its target audience and loyal customers with this bike, it's still an amazing bike that handles and sounds unlike a Harley, but who's complaining?
Pros
The power delivery is exciting, thanks to the potent V-twin engine
The refinement levels are on par with its Japanese rivals
It's got the visual appeal to win awards and hearts
Cons
The signature Harley-Davidson sound is missing
It's too sporty for a cruiser, too heavy for a street bike
The suspension travel is too short for everyday use
9
BMW R 18 – 2020
American cruisers are all about raw brawniness and Japanese ones are about efficiency and reliability, so when you want a unique character, you should look to the Germans. The BMW R 18 is perhaps the most unique cruiser on the market, with its massive 1,800cc boxer engine, a low-slung, long stance, and traditional styling. It's a joy to ride this bike, and it's surprising that BMW could pull this one off — we would've expected such an experience from Brough Superior yet here we are. The only downside is that the bike is so polished it lacks character for many bikers, but if a stylish cruiser is what you want, you should definitely consider the R 18.
Pros
The 1936 BMW R 5-inspired design is so sexy
The engine feels and sounds nostalgic, but it packs a punch
One of the most sophisticated cruiser experiences in the segment
Cons
The massive boxer is vibey
The suspension travel is limited and will hurt your back
Forget cornering on this bike
8
GSX-8S – 2023
Suzuki motorcycles often get a bad rep for being squid missiles, but switch out your flip-flops, tank tops, and baseball hats for proper riding gear, and you'll start to appreciate Suzuki motorcycles for what they are. The GSX-8S is an excellent example of that — a practical, high-performing, and borderline overengineered naked bike. This bike is developed out of the brand's version of future sports bikes, as is evident by its futuristic design, but the 776cc parallel-twin engine is an old template perfected. The GSX-8S aims to replace the long-celebrated SV650, and just like the latter, we fail to give enough credit to Suzuki for creating one of the best naked bikes in the segment.
Pros
It's a brand-new Suzuki engine that's welcomed by the community
The engine and chassis complement each other well
It's a practical, easy-to-ride motorcycle
Cons
The design may not be everyone's favorite
It's not as powerful or exciting as its rivals
Many riders would wish for a four-pot screamer in this segment
Related: 5 Reasons Why We Love The New Suzuki GSX-8S (And 5 Reasons Why We Think The Yamaha MT-09 Is Still Better)
7
Aprilia Tuareg 660 – 2022
2022 was a crazy year for Aprilia as it launched many new models and variants, one of which was the Tuareg 660 — an ADV iteration of the massively successful 660 lineup. This middleweight ADV fills the void in the brand's lineup of stunning road-going bikes by being a capable tourer and an off-roader. Also, the 660cc twin-cylinder engine feels so at home in this ADV avatar than in the RS 660, as if it was made for this bike only. Too bad, the Tuareg 660 is often ignored; it may not be as capable as a Tenere 700 but it brings about a flair that you won't find in any other middleweight adventure bike.
Pros
The parallel-twin engine is tractable and suited for off-road use
Like other Aprilias, it's an excellent road bike
The chassis is predictable without sacrificing agility or sharpness
Cons
We wish it came with lean-sensitive ABS and traction control
The gearing feels too tall for proper off-road use
The Aprilia Quick Shift is a costly option
6
Suzuki Hayabusa – 2021
Suzuki Hayabusa is one of the biggest motorcycle monikers, but the current-gen Hayabusa somewhat failed to win bikers' hearts. The heavyweight sportbike from Suzuki is unmistakably Hayabusa, with its sweeping, low fly-line, imposing bodywork, and incredible 1,340cc engine failed to wow everyone. Yes, it produces less power than its predecessor, but this bike is the fastest and the most responsive iteration of Hayabusa ever. And consider this bike for what it is — forget the name — it will still surprise you. This is one of the most comfortable, tractable, and fast sport bikes of the decade, and it's so light on its feet you'll forget you're riding a mammoth of a hyperbike. If we didn't believe in science so much, we'd have credited witchcraft for this bike's capabilities.
Pros
The engine produces explosive performance yet it's so practical for everyday use
It's a surprisingly comfortable sport tourer
It's a blank slate for modifications — Turbo Busa for the win!
Cons
The new Hayabusa forgot to go on a diet — it's beefy with a 582-pound wet weight
The rear end looks weirdly wide
It's not as revolutionary as its predecessors
5
Ducati Multistrada V2S – 2022
The Ducati Multistrada V4 defines the premium ADV segment, but it overshadows the Multistrada V2S. After all, why not — the V4 Granturismo engine will always win more hearts (and races) than the V2 Testeretta engine. But if you keep the spec sheet aside and compare the two bikes on the road, the Multistrada V2S is better than the V4 in many ways. It's lighter, easier to ride, versatile, and it can do everything the Multistrada V4 variant can but a little slower. Yet, it's got more than enough to satiate your adventure and touring appetite without burning such a big hole in your wallet. You won't regret this purchase unless all you want is the bragging right of having a V4 adventure bike.
Pros
This "entry-level" Multistrada is almost as capable as the Multistrada V4 without the bells and whistles
It's a light, nimble adventure tourer that you can take to the track
The design is still drool-worthy
Cons
The screen is too noisy for tall riders, which can be annoying on long hauls
It may feel outdated if you start nit-picking it
Despite being an ADV bike, it's not even decently capable of off-roading
4
BMW F 900 R – 2020
BMW makes excellent motorcycles that make you forget their rivals, like the BMW S 1000 RR or the R 1250 GS, but one bike that flew under the radar for most bikers is the BMW F 900 R. This roadster is one of the best naked motorcycles of the decade only if you take the time to explore what it has to offer. At first glance, a 895cc parallel twin engine with a BMW tag doesn't sound much, but swing your leg over this bike, and it will woo you better than your high school crush. The F 900 R is perhaps the purest naked bike BMW has ever produced — it's practical, exhilarating, and versatile — and for a price tag of $8,995, what else can we ask for? You'd be foolish to not fall in love with this one.
Pros
Every part of it feels premium and polished, like any other good BMW motorcycle
It's keenly priced but doesn't compromise on features like switchgear control, MTC, riding modes, LED lights, and many extra options
It's one of the most well-rounded naked motorcycles of all time
Sounds so good!
Cons
You're paying a big premium for a parallel twin motorcycle
The style may be too understated for many bikers
It may not push your limits if you're an experienced biker
Related: 2023 BMW F 900 R – Performance, Price, and Photos
3
Ducati Monster – 2021
When Ducati took the cover off the new Ducati Monster, everyone was shocked — how could a brand so design-oriented make such a mistake? The company took the Monster we all loved and turned it into a regular naked bike; gone were the trellis chassis, a muscular tank, a minimalistic design, a single-sided swingarm, and the crouched-down stance. The newest Monster was blamed for not being monstrous enough with the shredded design that made it seem more like an MV Agusta Brutale than a Ducati. Still, the current-gen Monster is the most refined, polished Monster ever, thanks to its nimble chassis, a more powerful, reliable engine, improved ergonomics, and riding dynamics. It still retains the Monster's character but in a fresh way.
Pros
It's a "cheap" Ducati motorcycle
The electronic rider aid package is tried and tested
It's approachable, fast, fancy, and stylish — a true Italian machine
Cons
It's still more expensive than most of its competitors
It lacks the iconic design of the outgoing Ducati Monster
And it lacks the classic Monster feel — this one is too polished for its own good
2
Triumph Tiger Sport 660 – 2022
One of the most underrated motorcycles of the decade is the Triumph Tigert Sport 660, but we can't blame anyone but Triumph for this. See, the 660 Triple platform is exhilarating, but the Trident doesn't feel engaging enough; it is too soft and dull for many bikers. But in an adventure tourer setup like the Tiger Sport 660, the inline-triple engine feels at home. The Tiger Sport 660 is a capable, exhilarating touring bike that makes the Kawasaki Versys 600 feel like an elephant.
Another reason why the Tiger Sport 660 was dismissed by many was the (mis)naming of the bike. This is by no means a Triumph Tiger; this bike feels like a street bike with a semi-fairing and a windscreen — perfect for casual tourers and nothing else. The Tiger name should've been reserved for the more serious adventure touring motorcycles in the lineup. Nonetheless, the Tiger Sport 660, barring its name, is an excellent touring bike that many bikers will enjoy — it's still Triumph in the sense of being versatile, polished, and exciting.
Pros
The 660 Triple engine offers a broad, linear powerband
The riding position is comfortable, and the cockpit is not confusing or cluttered
It's a versatile, practical touring bike
Cons
The front end tends to dive under hard braking
Despite being a touring motorcycle, it lacks features like cruise control and heated grips
Slight vibes creep in at 5,500 rpm, which is where you'll spend most of your time in
1
Kawasaki Versys 1000 – 2021
The Kawasaki Versys 1000 suffers from an identity crisis — is it a sport tourer, adventure tourer, or a category of its own? Call it what you want, you can't deny that the Versys 1000 is a mind-blowing motorcycle. Let go of its off-road capabilities (honestly, laughable), and you discover a tall motorcycle that's roomier than a New York apartment, an engine that performs like a liter-class sport bike, and handling credentials that can have you overtake naked bikes if you know what you're doing. The Kawasaki Versys 1000 may not be to everyone's taste, but it's a tasteful motorcycle that deserves more recognition than it gets. It should be the go-to touring motorcycle for many of us. It's the practical choice.
Pros
One of the best value-for-money liter-class touring machine
The ergonomics are open and the seat is oh-so-comfortable
The 1043cc inline-four is built for touring
Cons
It isn't as sexy or thrilling as its rivals like the Ducati Multistrada V4
The suspension may not feel sorted for many experienced riders
The tall stance may be intimidating for newer riders
link