10 Of The Fastest Production Motorcycles Ever Built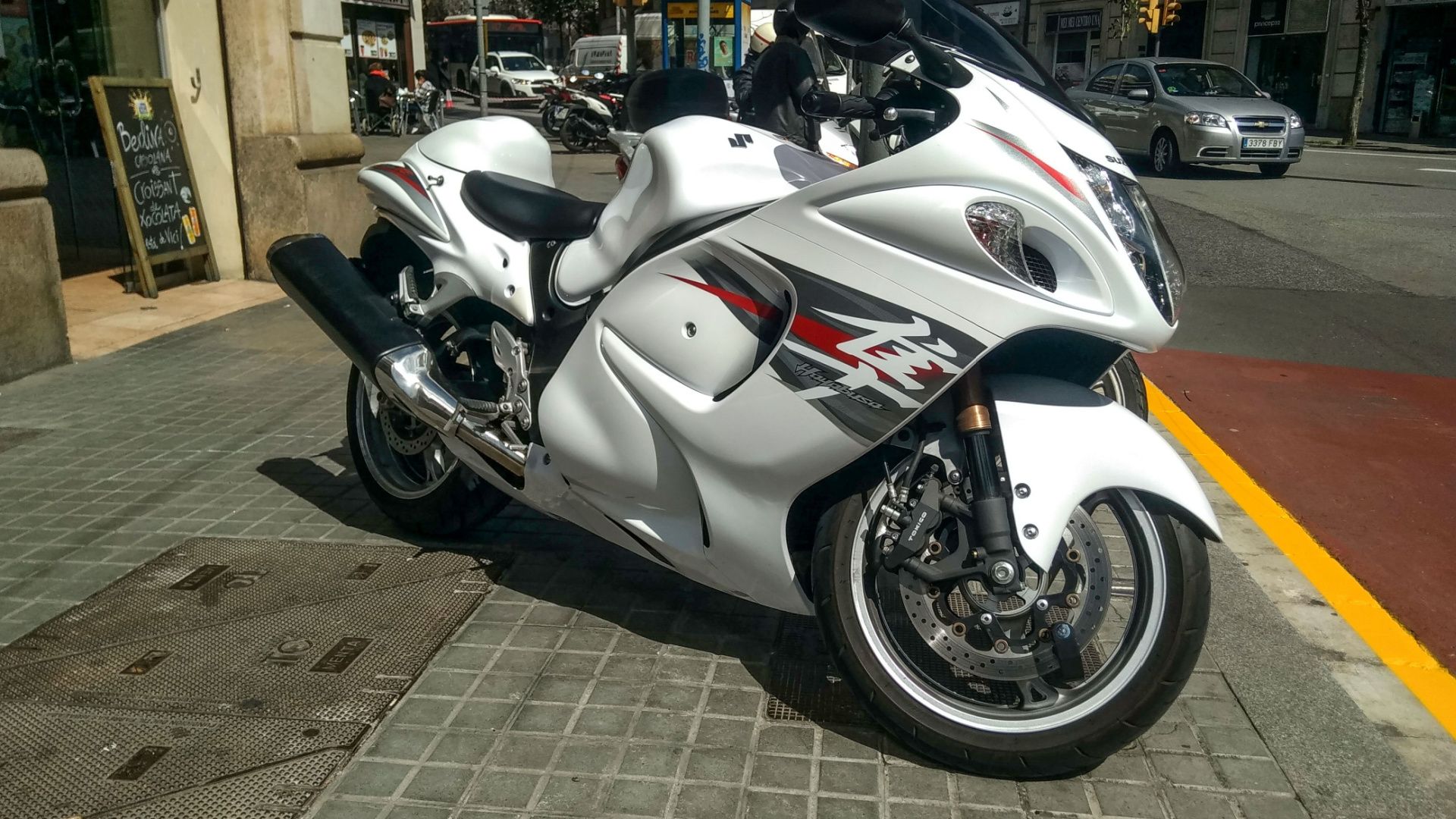 Today, it is incredibly non-politically correct to talk about outright top speed, as if ignoring the subject means that today's performance motorcycles don't have a top speed at all. There was a time, however, when top speed was what sold motorcycles as much as chassis dynamics and track prowess or racing success. Arguably the first 'hyperbike' was the 1988 Kawasaki ZX-10, with a top speed of 167mph but the one everyone really remembers is the Suzuki Hayabusa, with its near-200mph top speed. The 'Busa is still with us and, if its wings have been clipped a little, it is still blisteringly fast and a reminder of the days when speed was king.
Related: 10 Fastest Production Motorcycles Currently On Sale
10
Kawasaki ZX-10 (1988-1990) – 167mph
The bike that arguably started the speed wars and also the notion that speed in itself was enough to sell motorcycles. Kawasaki had changed the sports bike scene with the GPz900R in 1984 but the 1986 GPz1000RX was little faster and didn't handle nearly so well. So Kawasaki reinvented it as the ZX-10, an ultra-powerful heavyweight bike with one goal only in mind: sustained, stable and comfortable high speeds in a straight line and hang nimble handling. A new, stiffer chassis gave superb stability, the bulky fairing cut through the air smoothly and 137 horsepower looked after the speed element.
| | |
| --- | --- |
| Engine | Inline four cylinder |
| Power | 137 hp |
| Torque | 75 foot pounds |
| Weight | 490 pounds |
9
Kawasaki ZZ-R1100 (1990-1997) – 177mph
After Kawasaki realized that speed really sold motorcycles, the company went to town on the next model, the ZZ-R1100. A development of the ZX-10, everything was new, including the 'ram air' induction scoop in the nose, helping the (slightly bigger) engine produce 147 horsepower (which was a lot in those days). There was a new frame and aerodynamic fairing, bigger diameter forks, lighter wheels, better brakes: everything received attention. Faster than the ZX-10, with better handling and comfort. Upgrades and improvements three years after it was released kept the ZZ-R1100 at the top until 1997 and the arrival of the Honda Super Blackbird.
| | |
| --- | --- |
| Engine | Inline four cylinder |
| Power | 147 hp |
| Torque | 81 foot pounds |
| Weight | 502 pounds |
8
BMW K1300S (2007-2017) – 179mph
Started life as the K1200S in 2007, with 167 horsepower from its transverse, 1,157cc four-cylinder engine and BMW's own thoughts on suspension – Duolever front and Paralever rear – which gave a very secure-handling platform. Then, in 2009, an enlarged engine – 1,298cc – gave out 173 horsepower which by any measure, gave an incredible top speed of 179mph, but which also fell short of the speed attained by the original Suzuki Hayabusa. Typical BMW quality and attention to detail, although the price could be supplemented significantly if the BMW options catalog was dipped into. But it was stylish in a very non-BMW way.
| | |
| --- | --- |
| Engine | Inline four cylinder |
| Power | 173 hp |
| Torque | 103 foot pounds |
| Weight | 503 pounds |
7
Kawasaki ZZ-R1200 (2002-2004) – 184mph
A bit of a place-holder until the ZZ-R14 arrived in 2006, and not much different to the previous ZZ-R1100. Main differences were a slight displacement increase, to 1,164cc and a bit more power – 159 horsepower. This gave a little more speed, but it was still slower than the ZX-12R and Hayabusa, although, to be fair, Kawasaki was working on the ZZ-R14 so the ZZ-R1200 didn't get the love it deserved, which led to accusations that it was built down to a budget, with attendant corrosion problems on certain components. It does all seem rather nit-picking, however, given that the top speed was still 184mph!
| | |
| --- | --- |
| Engine | Inline four cylinder |
| Power | 160 hp |
| Torque | 121 foot pounds |
| Weight | 520 pounds |
Related: Best Motorcycle Names Ever
6
Kawasaki ZZ-R1400 (2006-2012) – 187mph
If the relentless pursuit of top speed was over, thanks to the limiting agreement, that didn't mean that a motorcycle couldn't be 'hyper' or advanced in other areas, such as acceleration and all-round ability. The ZZ-R1400 was so good in every respect, that it even prompted Suzuki back to the drawing board to revise the Hayabusa. The engine of the ZZ-R1400 was the most powerful production motorcycle engine ever, producing 187 horsepower and giving the bike a claimed top speed (without the limiter) of 197mph thanks to the ram air component of the intake. Everything was new – chassis, bodywork, suspension – and it all combined to create a quicker accelerating, more powerful, more refined and sophisticated motorcycle than the Hayabusa.
| | |
| --- | --- |
| Engine | Inline four cylinder |
| Power | 187 hp |
| Torque | 113 foot pounds |
| Weight | 485 pounds |
5
Kawasaki ZZ-R1400 (2012-2020) – 187mph
Time for an update, six years after the model appeared. Again, top speed was unchanged, but that's about the only thing that stayed the same. The engine was completely new, with a claimed 200 horsepower (210 with ram air at speed), suspension was new, styling refreshed and electronics getting more sophisticated – three riding modes and traction control. It was surprisingly nimble for such a long and large motorcycle which, even if that wads never the point of such bikes, did improve its all-round ability. Sadly, however, this would be the last hurrah of the brilliant ZZR range, leaving the playing field to the hugely updated Hayabusa from 2021-on.
| | |
| --- | --- |
| Engine | Inline four cylinder |
| Power | 200 hp |
| Torque | 113 foot pounds |
| Weight | 584 pounds (wet) |
4
Suzuki GSX1300R Hayabusa (2007-2018) – 187mph
In the light of the competition from Kawasaki, Suzuki couldn't rest on its laurels and gave the Hayabusa a big refresh for the 2007 model year. The engine was slightly larger, which allowed Suzuki to leap-frog Kawasaki once again, the engine now putting out 194 horsepower. Electronics were starting to rear their head and the Suzuki got three riding modes, while the suspension and brakes were tweaked and the styling, while remaining distinctive, was 'softened' slightly, even though we had all become used to it by now. One more update in 2013 brought ABS and new Brembo brakes, but the Hayabusa in this form was destined to fall foul of Euro4 emissions rules in 2018, hence the arrival of the new 'Busa in 2021.
| | |
| --- | --- |
| Engine | Inline four cylinder |
| Power | 194 hp |
| Torque | 113 foot pounds |
| Weight | 485 pounds |
Related: Suzuki Hayabusa – 25 Years Of The Most Iconic World's Fastest Motorcycle
3
Honda CBR1100XX Super Blackbird (1997-2005) – 188mph
With the Super Blackbird (genius choice of name, after the SR-71 military jet, the world's fastest), Honda was not only going for the top speed record: it was also intent on setting new benchmarks for comfort, refinement and chassis behavior, while sacrificing none of the typical Honda quality. A large part of the Super Blackbird's top speed success came from not only the 162 horsepower developed by the liquid-cooled four-cylinder engine, but also from the noticeably slim fairing, with a small frontal area, aiding aerodynamics. It was hugely refined, with twin balancer shafts smoothing the engine out, and it was brilliantly versatile, for once being as at home on the track as it was in a straight line, although it was still a large bike and the likes of the Honda Fireblade could run rings around it when the going got twisty. Still remembered fondly today.
| | |
| --- | --- |
| Engine | Inline four cylinder |
| Power | 162 hp |
| Torque | 91.5 foot pounds |
| Weight | 490 pounds |
2
Kawasaki ZX-12R (2000-2006) – 188mph
The ZX-12R was Kawasaki's response to the Suzuki Hayabusa and was intended to take the top speed crown but, before it could manage that, the gentleman's agreement regarding top speed kicked in, rather strangling the ZX-12R's potential, even though it was still blisteringly fast. It was the most powerful bike at the time and Kawasaki worked hard to give it a more sporty chassis than the Hayabusa and equally good (and infinitely better looking) aerodynamics. It was a combination of the best bits of both the Honda and the Suzuki and its own predecessor but, by this time, the outright speed record was unattainable.
| | |
| --- | --- |
| Engine | Inline four cylinder |
| Power | 178 hp |
| Torque | 98 foot pounds |
| Weight | 463 pounds |
1
Suzuki GSX1300R Hayabusa (1999-2007) – 190.1mph
The last hurrah of 'speed sells' before everyone got cold feet and agreed on a self-imposed limit of 186mph (300km/h). Suzuki wanted to be fastest, and they managed it with the astonishing Hayabusa, named after the ultra fast-diving Peregrine falcon, who's main prey is the Blackbird…! The engine pushed out 13 horsepower more than the Honda – 175 horsepower in total – but the speed came courtesy of the incredible, wind-tunnel developed bodywork which was like nothing anyone had seen before. Some examples managed nearly 200mph which was enough to force the manufacturers to curb this obsession with speed before it got out of hand and countries started banning the sale of such missiles. Quite rightly a legend, even if you hate the looks.
| | |
| --- | --- |
| Engine | Inline four cylinder |
| Power | 175 hp |
| Torque | 102 foot pounds |
| Weight | 480 pounds |
link