15 Best And Incredibly Awesome Three-Wheeled Vehicles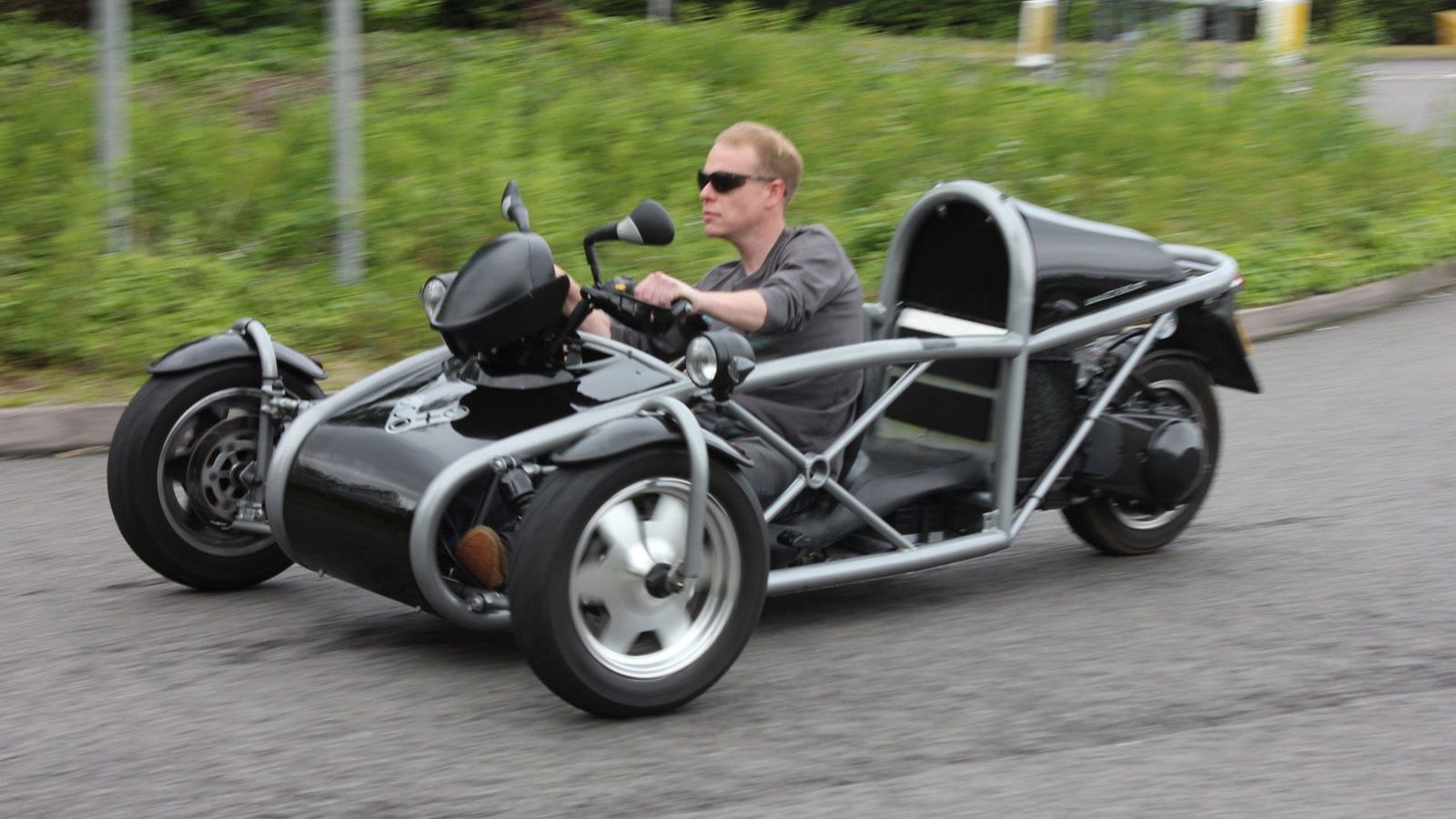 Three-wheeled vehicles remain novelties in the automotive world, but there's no mistaking that these gimp-legged cars have gained popularity in recent years. From companies like Morgan to Campagna to lesser-known firms like MEV and Elio, it's hard not to see these three-wheeled vehicles as nothing more than fad cars.
The truth is that some three-wheeled cars have established fan bases *by offering something different than most car customers are accustomed to. Some of the three-wheelers in this list never made it to production, but some have become people-pleasers in their own right. Whatever their status, they all share one thing in common: we'd love to drive them.
Updated May 1, 2023: This list of three-wheeled vehicles may need to be refreshed because of the date that it was initially published, but the information contained within is still relevant. Since these vehicles are gaining traction on the market, you will find the original ten entries and a few extras added on for you to check out.
Related: The New Morgan Super 3: An Outlaw in an Era of Excessiveness
15
Campagna T-Rex: BMW Power And Sports Car Performance
Disregard its egg-shaped look for a second and give the Campagna T-Rex the respect it deserves. It's powered by a BMW-sourced 1.6-liter straight-six engine that produces 160 horsepower and 129 pound-feet of torque. These figures don't sound impressive, but, mind you, the T-Rex weighs only 1,199 pounds (544 kilos). This three-wheeler boasts a power-to-weight ratio (US tonne) of 267 horsepower per ton. Not too bad for a three-wheeler that costs around $70,000, right?
14
Polaris Slingshot: Technically A Motorcycle
Did you know the Polaris Slingshot is officially classified as a motorcycle despite having one extra wheel? The Slingshot is powered by a General Motors-sourced 2.4-liter Ecotec four-cylinder engine that produces a scintillating 173 horsepower and 166 pound-feet of torque. The Slingshot is fast and powerful. It also looks like a Decepticon, but none of that changes the fact that the Slingshot is capable of incredible performance numbers.
13
Volkswagen GX3: The Forbidden Fruit
First shown at the 2006 Los Angeles Auto Show, the GX3 marked Volkswagen's initial foray into the world of three-wheeled vehicles. The GX3 looked really cool in concept form,* and it also came with impressive power and performance figures, highlighted by a 1.6-liter four-cylinder engine that produced 120 horsepower and 112 pound-feet of torque. VW even claimed the concept could sprint from 0 to 60 mph in 5.7 seconds on its way to a top speed of 125 mph.
Related: 2021 Morgan 3 Wheeler P101
12
Marotti: It's Like A Mini, Three-Wheel Race Car
It's hard to make out what the Marotti is like. On the one hand, it looks like an angry soapbox with mean eyes and two large fins at the back. On the other hand, the Marotti's mean mug isn't there for just show-and-tell purposes. The Marotti is believed to hit 60 mph from an idle position in just five seconds before peaking at a top speed of 118 mph. Those are impressive figures for a three-wheeler, let alone one that looks like the Marotti.
11
Elio P5: Could Have Been The Cheapest 3-Wheeler In The World
Sometimes, even the best-laid plans are no match to the financial restrictions of the business world. The Elio Motors P5 is an excellent example of this. Unveiled in 2015, the P5 looked every bit like a funky three-wheeled car. The fenders and the two front wheels jutted out from the rest of the car's body, looking like limbs in the process. The sharp nose gave it a sports car vibe, and it had the profile of a full-fledged car, at least if you ignore the fact that it had just one wheel at the back.
10
Peugeot Egochine: It Didn't Even Win A Design Contest
One look at the Peugeot Egochine, and our thoughts immediately went to the Gillette Fusion razor. Turns out, we weren't alone in that sentiment. Paolo De Giusti, the man behind this concept, admitted to identifying the popular razor blade as the muse behind the Egochine. Unfortunately, the Peugeot Egochine isn't an actual production vehicle. The concept was De Giusti's entry to one of Peugeot's design contests in 2010, where he made it as a finalist.
Related: 2017 Polaris Slingshot SL Limited Edition Midnight Cherry
9
MEV TRIKE: A $20,000 Unicorn
It's definitely not for everyone, but if you have the wherewithal — and patience — to take on this challenge, you'll find something refreshing about taking a kit car and building and customizing it to your own taste. You can even set up your TRIKE to carry around 235 horsepower from either of the Suzuki or Yamaha crate engines that the kit came with. Best of all, the kit costs just a little over $20,000. Granted, that's a lot of money for some people, but if you have disposable income, you can take a stab at building your own MEV TRIKE and see how far and how fast it takes you.*
8
XR3: It's A Three-Wheeled Kit Car
Created by Robert Q. Riley Enterprises, the XR3 isn't something you simply buy from the company and drive home with it. The XR3 is built from plans with the parts sourced by the builder. Plan prices range from $99.50 to $200, and you can install whatever electric motor or engine you want. It's a sophisticated build, that much we can say. But the payoffs could be huge, especially if you're the type who knows how to make chicken salad from chicken soup, or at least in this case, a hybrid three-wheeler from scratch.
7
Higgins-Aube Energya: Still Living As A Concept
Like the VW concept, the Canadian-born Energya was supposed to be a significant offering in the world of three-wheeled vehicles, or "mobomobile," as the company referred to it. Unfortunately, the Energya never made it past the concept phase, and, to this day, it remains a pipe dream among those who like these sorts of rides. It's a shame, too, because Higgins-Aube made big promises when it announced the Energya, including the three-wheeler's supposed ability to split 60 mph in under four seconds.
Related: What Is Rad, Red & Has Three Wheels? Well, This Crazy 650cc Honda Trike Right Here!
6
Ford Ghia Cockpit: Not Really An Airplane
Ford's feature attraction in the 1982 car show proves that the big car companies have always known about the need to lower carbon emissions. The problem is, and still is for many consumers, that people are afraid to shift away from what they know. The small Ford Ghia Cockpit is a three-wheeled concept car that can get up to 75 miles a gallon while driving in town, but even though it is made in the semblance of an airplane's cockpit, it is definitely designed with the speed of one.
5
Vanderhall Carmel GTS: Three-Wheeled Turbo-Powered Excitement
The Vanderhall Caramel lineup starts with the base model and goes up to the GTS trim level that offers stainless steel, stained glass, leather, and eye-catching colors. For all this, you will have to fork out some serious cash, but the turbocharged 1.5L engine makes it well worth the investment for those that enjoy cruising in the open air. Unlike most of the other three-wheeled cars on this list, the double-wishbone front suspension makes for a smooth ride.
4
Bajaj RE: The Taxi For Many Overseas Countries
The Bajaj RE may not look like more than an oversized child's toy to most Americans, but in India, this is a popular model because it is so small and versatile. If you ever travel overseas in a Tuk Tuk, you are in a Bajaj RE. They have a tiny 199cc engine to power them up to a mere 65 miles per hour, but they can get through any type of weather in any terrain. The three-wheeler is not meant to be an off-road expert, but it gets the job done, especially in the urban jungle.
Related: Kawasaki's Radical Three Wheeled Superbike
3
BMW Isetta: Saved The BMW Name
Believe it or not, in the early 1950s, BMW was on the brink of bankruptcy. Motorcycle demand was declining, and the cost of a high-end luxury car was simply too much for most people, so they desperately needed a new model. That new model was introduced in 1954 at the Turin Car Show. The three-wheeled BMW Isetta was designed and produced by Renzo Rivolta, the owner of Iso SpA. The "Bubble Car" was an immediate hit* then and has since collected a decent amount of followers today.
2
General Motors Lean Machine: Hard To Drive But Great On Fuel
In the early '80s, a team of GM engineers led by none other than Frank Winchell went to work creating a new kind of vehicle. A vehicle that would be great on fuel, lower pollution amounts, and still get the occupants from point A to point B and back again. Unlike some of the concept models that the team built, the Lean Machine took some driver effort *to keep on the road using separate foot pedals and a handlebar steering wheel. The three-wheeler appeared in a movie or two but was never produced for sale due to company cutbacks.
1
Morgan Three-Wheeler: The Best of the Best
As this list has shown, there are a lot of three-wheelers in the market today. None of them can hold a candle to the Morgan 3-Wheeler. Morgan even added the EV3 in 2016, allowing customers to opt for an electric version of the funky ride. The OG 3-Wheeler is powered by a 1998cc V-Twin engine that produces 82 horsepower and 103 pound-feet of torque. It's not much compared to what other three-wheelers are packing, but the Morgan weighs just 1,157 pounds (525 kilos).
FAQ
Q: How much is a 3-wheel car?
The price of 3-wheel cars vary depending on the company that sells them. There are kit cars that cost less than $10,000, but you're in charge of actually building the car from the ground up. If you don't want that hassle, you can buy one from the factory from companies like Morgan and Campagna. The Morgan 3 Wheeler, for example, sells for around $45,000 while the Campagna T-Rex sells for an insane $70,000.
Q: What is a 3 wheel car?
A 3 wheel car is, in its basic form, a car with three wheels. Some three-wheelers are also considered tricycles, which is why they're classified legally as motorcycles.
Q: Are 3-wheel cars fast?
Yes, 3-wheel cars are fast, or at least those with a decent engine powering them. These engines don't produce gob smack levels of power, but thanks to the weight of these vehicles, 3-wheelers return around the same amount of power-to-weight ratio as a lot of today's established performance cars.
Q: Are 3-wheel cars safe?
By virtue of their physical makeup and the absence of any safety equipment that cars typically have, 3-wheelers are considered more dangerous than actual cars.
Q: How many companies make 3-wheel cars?
There are several companies that build three-wheeled vehicles. Companies like Morgan and Campagna built their identities on the back of three-wheeled vehicles like the 3-Wheeler and the T-Rex. Other less established firms have also dipped their toes in the market, including Polaris and MEV.
link