Bike bosses' new EV plea: Manufacturers urge MPs to look again at two-wheels before 2035 petrol engine ban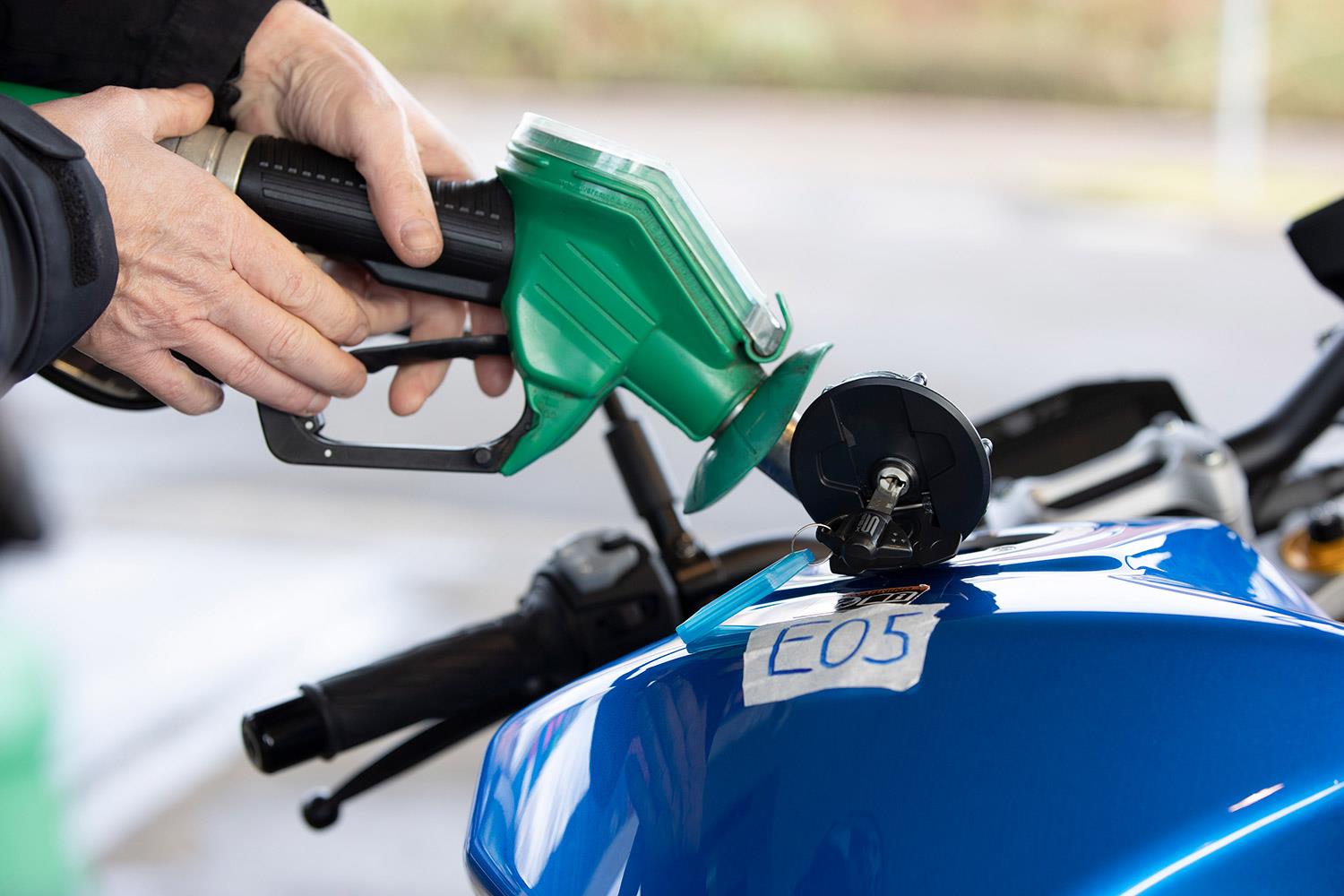 Published: 13 September 2022
Updated: 06 July 2023
Britain's bike industry bosses have pushed back hard on Government plans to phase out the sale of new, petrol-engined motorcycles by 2035, asking instead for an open-minded approach to alternative fuels.
In a cards-on-table meeting last week with Jesse Norman MP, key representatives from the UK's motorcycle industry urged the Government to urgently rethink its plans, with the sector accounting for only 0.4% of the total UK domestic transport emissions.
"We are not saying that we can't improve where we are. We're not saying that we don't want any of this and it needs to go away, what we're saying is we need an open mindedness to technology," Chief Executive of the Motorcycle Industry Association (MCIA) Tony Campbell told MCN.
"And we need time to allow other industries to develop, the investment to go into other sectors. That's then going to provide options to us as a sector because we're not big enough to drive that innovation and that change so we need the automotive world to move forward very quickly."
The meeting, hosted by the Department for Transport (DfT), was a chance for the MCIA and the National Motorcyclists Council (NMC) to present their reaction to a Government consultation issued last year that proposes the phasing out of some petrol-engined machines from 2030 with a complete ban five years later.
Manufacturers are now calling for a technology-neutral approach to the situation that considers clean and synthetic fuels alongside batteries and alternative fuels moving forward.
"We need investment into battery technology and new innovations as well as efuels," Campbell continued. "Therefore the premise of our argument is if you force anything on us too soon, then the industry won't be what it is today."
Speaking about the current 2035 deadline, he added: "Worst case scenario, the 11kW (125cc) segment we could live with that ‑ the market is already moving in that direction. But we need 2040 or beyond for everything else, and this is what we are fundamentally asking for."
Manufacturers with experience in electric motorcycle development echoed the concerns of banning larger capacity machines too quickly, with doubts aired at their ability to offer customers with acceptable net-zero alternatives.
Steve Sargent, Chief Product Officer at Triumph, who previously gained understanding of electric motorcycle technology with their TE-1 electric project, said: "All the major OEMs present shared similar views on the difficulty of developing larger capacity EV motorcycles which meet customer expectations on cost and range. The Minister took a considered view of the opinions of all parties. We hope that the final announcement reflects the information presented."
There has been movement in Europe regarding the ICE ban after the European Union agreed to allow combustion engine sales after 2035 if they could run on efuels. These materials strip CO2 from the air and combine it with hydrogen to create a petrol replacement to power a combustion engine.
NMC Executive Director Craig Carey-Clinch said: "The Minister was in listening mode and seems willing to discuss further the points that were made in the meeting.
"But with no date yet announced for the Government's policy announcement on motorcycle decarbonisation, there is still much to do to make sure that our messages are fully taken on board. As a result, the willingness of Mr Norman to keep dialogue open on areas such as efuels is very welcome," he concluded.
A Department for Transport spokesperson added: "It's important that we decarbonise motorcycles along with other modes of transport and we're engaging with industry and stakeholders on this, including at last week's positive and constructive roundtable discussion." Watch this space.
---
Internal combustion isn't finished yet: EU proposal creates new e-fuel-only vehicle category
First published 2 May 2023 by Ben Clarke
The EU is proposing an exemption to the ban on new internal combustion engines that would allow vehicles running on e-fuels to be sold after 2035, according to Reuters.
The move comes after the German government opposed plans to end the sale of new petrol and diesel vehicles after 2035 just days before they came into force.
Reuters are reporting that new draft legislation they have seen would create a new category of vehicle that can only run on e-fuel and would need to have technology fitted to prevent it from running on traditional fossil fuels.
The UK Government confirmed in February last year that powered two-wheelers would be included in the new petrol and diesel ban along with cars and vans. In fact, the smallest categories of bike, L3e-A1 (up to 14.8bhp) are set to disappear from showrooms in 2030.
Several motorbike manufacturers have already proposed that e-fuels should be on the agenda for larger, leisure type motorbikes and Suzuki's recent communication on future propulsion left the door open top this, too.
E-fuels include synthetic petrol, which can already be produced in small quantities at great expense but is being developed all the time. Car makers Porsche (owned by the same parent firm as Ducati) recently opened a large e-fuel plant in Chile and others around the world are investing in the tech.
Although it's unclear yet whether motorbikes would be included in the EU's version of the 2035 petrol and diesel ban, or even this new vehicle category, but this news surely offers a lifeline to bikers in the UK who want to continue buying internal combustion motorcycles in the future.
---
Batteries are not the only answer: Key manufacturers express concerns over proposed electric-only future at annual industry conference
First published 01 February 2023 by Dan Sutherland
Representatives from leading motorcycle manufacturers say the UK's focus on electric vehicles means we risk missing out on viable alternative fuels.
National bosses from Honda, Kawasaki, Royal Enfield, Ducati BMW and more descended on the National Motorcycle Museum on January 24 for the annual Motorcycle Industry Association (MCIA) Conference, where they were addressed by Minister for Transport Decarbonisation and Technology, Jesse Norman MP.
Addressing the MCIA via a video link, the Minister promised to not "risk a 'one size fits all' approach" when phasing out the sale of combustion engine motorcycles, further adding: "We know that [with] the diversity of vehicles in our system each offers something different to the public and the economy. For each of them we're determined to try and secure the regulatory solution of best fit."
While this appeared to signal an open-minded approach to the future of two wheels, his statement was then followed up in person by Aaron Berry from the Office for Zero Emission Vehicles, which is part of the DfT, suggesting the plan would still revolve heavily around electric.
"The last few years have seen significant growth in this space and battery electric vehicles," Berry said. "In just eight years' time we'll have around 10 million vehicles with plug.
"[The UK has] something like 37,000 charge points [37,055] today and we need between 280,000 and 720,000 over the course of the next eight years to match that ramp-up in vehicles."
By 2035, the Government aims to have around 6000 ultra-rapid, open-access charge points across England's motorways and major A-roads with more chargers on the way in Scotland, Wales and Northern Ireland.
This speech was followed by Andy Eastlake, the CEO of Zemo Partnership, who have worked alongside governments for more than 20 years to try to reach net zero carbon emissions.
"Fundamentally, we still have an air quality challenge and the targets that we're trying to achieve on air quality are getting tighter and tighter," Eastlake said: "We can't bet the farm on a bio solution for all of our transport. Right now, I'll be honest, we're not looking to really push beyond E10.
"A lot of people see [synthetic fuels] as the ultimate future," he continued. "We know how to make things low carbon, but the problem is that this absorbs a huge amount of energy. It's a very low efficiency solution if we talk about the amount of energy that we need compared with just running a vehicle on electricity."
He said hydrogen was being investigated for use in heavy goods vehicles but suggested it would be difficult to store on a motorcycle unless major breakthroughs are made.
"Lightweight, automated, connected, electric, and shared. That is how we're going to get to where we need to be," he concluded.
Following these comments, motorcycle industry figures were then invited on stage for a panel discussion, with many highlighting problems with switching completely to electric.
"We don't see battery electric as being the only solution," General Manager of Kawasaki UK, Howard Dale said. "I hear what's being said about alternative fuels. Yes, they're expensive at the moment, but the technology is still in its infancy.
"The problem is if we write a set the rules then cancel that out from the start we'll never find out if it's a viable alternative," he added. "It isn't just about building a bike that meets the legislation, it's about doing so at the right price.
"Our duty – as an engineering company – is to reduce global emissions and make the planet a more sustainable place for future generations," the Kawasaki boss continued.
"But we need a reasonable timescale in which to achieve it and to do that we need to work in partnership. And partnership generally involves two things. One is acceptance and the other is compromise."
Dale's comments were echoed by Country Manager for Royal Enfield, George Cheeseman, who said: "As a mid-size manufacturer, the battery technology doesn't exist today. For us to be able to do it, it'll be three times the cost based on what it is today.
"We know where we've got to go, and we know where we've got to be, but commercially we have to be able to be given the chance to get there."
---
Making the right noises: MP pledges 'low risk' approach to phasing out petrol engines
First published 27 January 2023 by Stuart Prestidge
The Minister for Transport Decarbonisation and Technology, MP Jesse Norman, has promised to not "risk a 'one size fits all' approach" when phasing out the sale of combustion engine motorcycles during the transition to zero emissions.
His comments were made during Tuesday's Motorcycle Industry Association (MCIA) annual conference at Birmingham's National Motorcycle Museum. He emphasised the importance of cutting carbon emissions, describing the strategy as a "great driver of change."
The Minister said: "This is a Government that is trying to listen. And we are not going to risk a 'one size fits all' approach.
"We know that [with] the diversity of vehicles in our system each offers something different to the public and the economy, whether that's touring down to Truro on a high-powered motorcycle or nipping round the streets of Nuneaton on a moped. So, for each of them we're determined to try and secure the regulatory solution of best fit."
In response, Tony Campbell, CEO of the MCIA, said: "The Association and industry at large have made monumental strides in the last five years in getting our essential sector recognised as an instrumental form of transport, not only in helping realise the Government's environmental ambitions, but its future of transport ambitions, too."
He added: "We remain committed to working with the Government to ensure the most appropriate and fair approach is taken to transitioning our vehicles to zero emissions and in a way that is proportionate to vehicle size and emissions and that does not negatively impact our sector."
---
Future-proofing the motorcycle industry: Manufacturers respond to Government plans to ban all petrol bikes by 2035
First published on 28 July 2022 by Dan Sutherland
Multiple major motorcycle manufacturers have spoken to MCN about the UK Government's plans to remove the sale of all non-zero-emission motorcycles by 2035, with some criticising the proposals and others relishing the challenge.
The Department for Transport (DfT) announced the plans to mark the end of the first year of their Transport Decarbonisation Plan, which aims to achieve a net zero carbon footprint on the UK's transport infrastructure by 2050.
"We support the statement made by the MCIA [Motorcycle Industry Association] on July 14 expressing disappointment at the announced 2035 date for all L-Category vehicles [mopeds, motorcycles, three-wheelers, and quads]," Triumph's Chief Product Officer, Steve Sargent said.
"We agree there needs to be a better understanding that large capacity motorcycles are a different technical challenge which may need different solutions and timeframes."
A consultation will run until 11.45pm on September 21 of this year, with some bikes, including learner-friendly L3e-A1 motorcycles, producing no more than 14.8bhp, having an earlier 2030 cut-off.
"We will be part of the consultation process and will be putting forward our case directly to the Government," Sargent added. "We would hope that they will take a realistic look at the capabilities of the technology, the alternatives that should be explored and a holistic understanding of the relative impact on the environment.
"This should also be balanced against the impact on an industry which has generated significant numbers of highly skilled engineering jobs, and which contributes to UK exports."
Despite Triumph's criticisms, Kawasaki welcomed the news, with the company saying: "This date actually coincides with Kawasaki's already widely reported corporate commitment to be carbon neutral. 
"We showed a concept electric two-wheeler at EICMA in 2019 and we are actively embracing research into such future fuels as hydrogen as well as working with contemporary technologies like hybrid gasoline/electric motive power," they continued.
"New electric products will be introduced to key markets globally across 2022 and 2023, starting with three electric vehicles as the initial release. Currently we plan to launch ten new electric and hybrid-powered machines (both motorcycles and scooters) by 2025."
A representative from Yamaha added: "Yamaha have recently launched the first of a new range of electric two-wheelers with the all-new battery-powered NEO's.
"Other developments such as the recently announced tie-up with Toyota to develop a hydrogen powered performance engine are running alongside the electric vehicle development programme."
Honda are also striving for carbon neutrality by 2050 across all of their products, including plans to produce an 80% electric automobile range by 2035 via batteries or fuel cells. Three new personal EV models equivalent to 50cc or 125cc machinery are expected by 2024. 
But what about smaller firms? Solihull-based Norton are also working to meet the Government's requirements, with Chief Commercial Officer Christian Gladwell telling MCN: "Yes, we will be ready. Our zero-emission project has a 30-month timeline and forms an integral part of our 10-year strategy.
"We have recruited several experts in electric powertrain development and have demonstrated our competence to the notable government funding body, APC, which has subsequently awarded us… with a multi-million-pound grant to innovate and develop electric motorcycle technology," he continued, adding we should see a final prototype by the end of the 30-month period.
---
No petrol bikes after 2035: Government proposes new cut off for combustion engined motorcycles
First published on 23 February 2022 by Dan Sutherland
The Department for Transport (DFT) have marked the end of the first year of their Transport Decarbonisation Plan with fresh proposals to end the sale of petrol motorcycles and scooters by 2035.
The consultation will run until 11:45pm on 21 September of this year and seeks opinions surrounding ending the sale of all non zero emission L-category vehicles (mopeds, motorcycles, three-wheelers, and quads) by 2035.
Some categories of bike are planned to end by 2030, including learner-friendly L3e-A1 motorcycles, which produce no more than 14.8bhp.
"We have provided certainty to both the industry and consumers through investment to stimulate a new market to reduce the need for fossil fuels," Transport Minister Trudy Harrison said in a statement.
Part of a larger initiative to reach a net zero carbon footprint on the UK's transport infrastructure by 2050, the program has already seen a claimed 7500 new electric charging points installed to support the 900,000 plug-in vehicles currently on our roads.
Harrison continues: "Alongside the consultations, the Department for Transport is announcing funding for a competition to help industry develop the zero emission motorcycle supply chain in the UK. This will help create a manufacturing base for small, emission free vehicles and could lead to thousands of new jobs across the UK.
"Successful applicants for the £350,000 fund, will undertake research to support the production and distribution of new, green vehicles within the sector."
Despite promises of further funding, the Motorcycle Industry Association has criticised the plans, stating L3e-A1 vehicles are more environmentally efficient than some electric cars.
"The Government has not considered the complexities of the L-Category sector in terms of what is and isn't feasible when it comes to phasing out the other key segments of the market," MCIA Chief Executive Tony Campbell said.
"The MCIA and its members will be continuing to push the case for why large capacity motorcycles need more time to phase out and are looking forward to fully engaging with the consultation process to ensure the best outcome for industry".
---
Save our leisure bikes: MCIA urges Government to take phased approach to motorbike decarbonisation
First published on 23 February 2022 by Ben Clarke
The Motorcycle Industry Association (MCIA) is calling for the Government to take a more holistic approach to decarbonisation where motorbikes are concerned in a new document called The Journey to a Brighter Destination.
When the ban on new petrol and diesel cars and vans was brought forward to 2030, it was not immediately clear what it would mean for powered two-wheelers (PTWs) but the DfT confirmed in February 2020 that they were 'outside the scope of the initial consultation'. Since then, there has been no further guidance on what decarbonisation will look like for bikes.
Then at the end of 2021, the UK plug-in grant scheme was all but removed, a decision that made a move to electric bikes less viable than ever – although many electric bike brands have since stepped in to cover the difference.
In The Journey, The MCIA have taken a range of factors into consideration from the positive effect leisure motorcycling has on people's mental health through to the Life Cycle CO2 emissions per km of a performance petrol motorcycle – which is considerably lower than both a performance petrol car and a medium electric car.
They have also considered: the impact of motorcycling on the economy; motorbike sport; delivery riders who depend on petrol bikes for their livelihoods; and the industry's lack of charging infrastructure compared to cars.
The outcome of all of this is that the MCIA don't think the Government should impose a blanket ban on new petrol motorcycles based on an arbitrary deadline as is the case with cars and vans.
"The future can and will be bright for our sector, but if, and only if, the Government ensures the right level of support is in place, starting from now, both in terms of financial consumer incentives but also the time and investment needed for us to adapt to new powertrains, electrical or otherwise," states the document.
"The decarbonisation agenda is here to stay and rightly so. However, unlike other modes of transport, we face significant challenges when it comes to higher powered leisure motorcycles and their becoming zero emission at the tailpipe.
"Accepting net zero is the goal, there can and must be a transitional role to play for ICE engines as we look to head towards that end point. We accept not every vehicle is appropriate for every type of journey which is why MCIA has always been a strong advocate of the right vehicle for the right journey approach and extends to a right policy/regulation/subsidy for the right vehicle approach too."
---
Ban on new petrol and diesel cars and vans moved to 2030 – bikes to follow?
First published on 18 November 2020 by Ben Clarke
The Prime Minister has announced that the Government's ban on sales of new petrol and diesel cars and vans will move to 2030 – five years earlier than the date announced in early 2020 and ten years earlier than the original deadline. But what does that mean for motorbikes?
Despite some mixed messages at the time, the Department for Transport eventually confirmed in February 2020 that motorcycles were outside the scope of the initial consultation, which has led to the earlier date. It is not yet clear whether that is still the case.
The 2035 deadline was always subject to consultation and Transport Secretary Grant Shapps told BBC Radio 5 Live it could be as early as 2032 if a faster transition was feasible.
Hybrids and plug-in hybrids were included in the 2035 announcement for the first time but in the latest announcement, Mr Johnson has said that the Government will allow the sale of "hybrid cars and vans that can drive a significant distance with no carbon coming out of the tailpipe" until 2035.
"There can be no greater responsibility than protecting our planet, and no mission that a global Britain is prouder to serve," said Prime Minister, Boris Johnson.
"2020 must be the year we turn the tide on global warming – it will be the year when we choose a cleaner, greener future for all."
What does the ban on petrol and diesel cars and vans mean for bikers?
Original guidance was pretty woolly on the topic in 2018, stating: "The market for zero emission motorcycles is at an earlier stage than either cars or vans. Zero emission motorcycles can help reduce congestion, improve urban air quality and reduce noise.
"While cars outnumber motorcycles by more than 24 to one on UK roads, motorcycles are a sizeable vehicle population.
"To continue to support the development of the market and bridge the cost gap that remains between zero emission and petrol motorcycles, we will continue the plug-in motorcycle grant until at least 2020."
The Government still offers the plug-in motorcycle grant of 20% of the purchase price of certain electric motorbikes and scooters (up to a maximum of £1500), and the Ultra Low Emissions Zone in central London that came into effect in 2019 included non Euro3 compliant motorbikes, too.
So, while cars and vans are very much in the crosshairs right now, it would be safe to assume that motorbikes will follow suit in the future, but not just yet.
---
Is this the end of the petrol-powered motorcycle?
First published: 28 July 2017 by James Archibald
The government have announced plans that will see a ban on the sale of new diesel and petrol cars and vans in the UK by 2040 in a bid to tackle harmful nitrogen dioxide emissions in a move that will shake up the whole motor industry.
The move is expected as part of the government's clean air strategy – which is anticipated to favour the use of electric vehicles ahead of a High Court deadline.
The announcement will follow an order from the High Court that demanded that the UK cut harmful nitrogen dioxide (NO2) emissions, which have been reportedly linked with as many as 40,000 premature deaths each year, according to the Royal College of Physicians.
What does this all mean for motorcycling?
Motorcycling as we all know is a cleaner and more efficient way of travelling and if more people were to use them instead of cars then congestion would be greatly reduced, also reducing emissions from vehicles that are stationary and sat in traffic, tackling the problem in two different areas.
A study in Belgium found that if just 10% of cars were replaced by motorcycles in our most congested cities then congestion would be reduced by a massive 40% and also cut up to 15,000 hours a day of vehicles being sat stationary in traffic.
It is unsure at the moment exactly what the proposals for motorcycles will be at the moment and how they will be included in the government outlines. There is however a strong argument for the use of motorcycles in the battle to tackle the high levels of NO2 in our cities. 
"With this announcement, the UK government is reinforcing the direction they've already taken by introducing the £1500 grant for two wheeled electric vehicles this year" said Umberto Uccelli, Managing Director Zero Motorcycles Europe. "This is, in our opinion, the way to go and in line with what other European governments have shown as well. Each time cars are mentioned we assume that this includes motorcycles as well, even though they have not been specifically mentioned by the British government thus far.
"With the progress we have made as the world leader in the electric motorcycle industry over the past 11 years, we're more than ready for what is coming in the next 23. At the same time we are convinced that by 2040 Zero Motorcycles will remain to be ahead of the competition, just like we are today."
The rise of electricity
With hybrid technology not yet available for motorcycles, it puts greater emphasis on the growth of electricity and how it could be used in future.
Electric motorcycles have, at the moment proved to be inadequate at providing enough range for most commuters to use every day and also faces the challenge of the time it takes between charges, making long-distance rides difficult.
Stevie Muir, Public Relations officer for the Motorcycle Industry Association said "The MCIA, in partnership with the National Police Chiefs Council and Highways England, has published its Motorcycle Safety and Transport Policy Framework, which puts forward the case for encouraging motorcycling as a sustainable transport option.
"As well as explaining the role of motorcycling as a solution to urban congestion, it states the case for the inclusion of motorcycling in mainstream transport policy and sets out a framework of practical recommendations as to how this might be achieved. 
"Almost the entire motorcycle fleet in the UK is petrol. Many small motorcycles and scooters, the type popular with commuters, already meet ultra-low emission requirements. Powered two wheelers move through traffic quicker, help reduce congestion for all road users and take up less space to park."
The government is also trying to address some of this though, with an announcement the other day that outlined a heavy investment into electrical energy storage and making appliances more efficient. What this could mean is that some of this technology could transfer over to the batteries used in electrical vehicles, marking improvements that may see them able to be used as genuine alternatives to petrol vehicles.
The air pollution plan
The government published a draft air pollution plan in May, outlining its plans to cut the NO2 emissions with one of the expected proposals including a scrappage scheme. In the final report though, this was not included and described previous schemes as "poor value for money."
Alongside the ban on diesel and petrol vehicles, it's also expected that speed humps could be removed in a bid to reduce pollution from vehicles slowing down and speeding up.
Local authorities will be able to implement these changes imminently, with a £40-million fund of a total £255-million pot and will also be able to use the money to implement new technologies, change road layouts and encourage the use of public transport.
It could also see the implementation of emissions charging zones to help curb NO2 levels in the worst affected areas.
France is also looking to ban the sale of any car that uses petrol or diesel by 2040, with an overall aim to be completely carbon-neutral by 2050. 
link