BMW R 18 Cruiser Motorcycle Is Big, Beautiful, but Must Battle Harley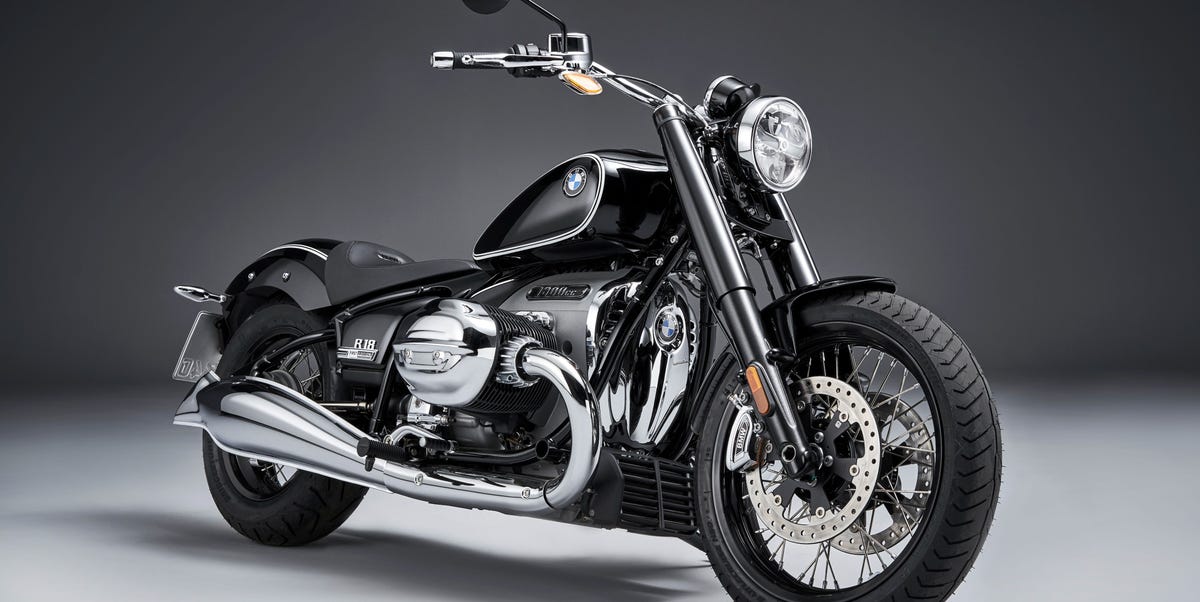 After three years on the market there are now five versions of the BMW R 18 cruiser motorcycle, and with each hard-won sale they make another dent in the Harley-Davidson cruiser-bike juggernaut.
Dealers say you can get an R 18 for a lot less than the equivalent Harley.
She's a beaut, ain't she?
---
What's a motorcycle gotta do to get some love? Some respect? Or at least some sales? Consider the plight of the beautiful BMW R 18.
BMW sold a record 202,895 motorcycles worldwide last year and remained in first place in the global premium motorcycle segment. BMW Motorrad USA sold 17,690 bikes to set a record of its own. The top sellers continue to be the new R 1250 GS and GS Adventure, with what BMW calls "strong performance" from the superbike S 1000 RR and even the M 1000 RR. But the Roundel also gave credit to a "freshened product lineup of new models like the all-new R 18 B and R 18 Transcontinental," both variants of the historically significant R 18 cruiser bike.
When it came out in 2020, the R 18 was almost universally regaled as a beautiful bike. Even riders who weren't familiar with the R5 of the 1930s that inspired it loved the styling of the new R 18 and could probably recognize some historical heritage in the hardtail-looking frame, pinstriped gas tank, and big, honking cylinder heads poking out sideways from the case.
Before anyone actually rode it, the R 18 got great reviews from people who simply loved the way it looked. I, too, went a little bonkers with enthusiasm three years ago.
But the big Beemer faced a whole set of challenges all its own, most of which had nothing to do with how big and beautiful it was or how well it cruised. It had to compete with Harley-Davidson. Harleys have been the darlings of American bikers for 120 years, since shortly after the first motor was placed in the first cycle. There's a culture built up around it, a way of life, an all-consuming identity that would make any modern moto marketer mince.
Globally, Harley did not sell as many motorcycles as BMW. The Motor Company, as it's known, shipped only 193,500 Harleys to BMW's 202,895 sales. Sales and deliveries are different things, and BMW is ahead. But while BMW offers a wide variety of motorcycles, Harley specializes in cruisers.
BMW's challenge with the R 18 was to crack the cruiser market that Harley has owned for seemingly ever. How to do that? They're dealin'!
"The way they're going about that is a very aggressive finance rate, as well as a rebate," said Kevin Reynolds of BMW Motorcycles of North Dallas, one of the leading R 18 dealerships in the country.
While you can easily spend over 30 or 40 grand on a CVO Harley, followed by adding options on it that Harley buyers love, the bikes Harley lists as "Cruisers" start at $14,399 for the Softail Standard. But on the Softail Standard you get almost none of the tech and safety features found on the BMW R 18. You don't even get dual front disc brakes. You can get onto a 2023 R 18 for $15,890. BMW Motorcycle dealers are offering financing as low as 0% for 60 months and rebates as high as $3000, depending on year, make, model, and probably a few other things.
You can get a Harley-Davidson Heritage Classic for $21,199 with ABS (standard on the R 18) but then there's dealer prep and destination, which can vary widely by dealer. While BMW offers zero percent financing, Harley offers 8.99% for 84 months. BMW also has a deal where they cover the buyer's first four payments.
When you add it all up…
"They're cheaper than the equivalent Harley," said Dagan Klipfel of BMW Motorcycles of Ventura County, adding, "Harley doesn't disclose their full price out the door."
"Three of our big sales/finance team (members) here are ex-Harley employees, so we've got people that can talk that turkey and explain it, go, 'Hey, this is going to have everything that your CVO does, and it costs $10,000 less, and you're gonna be able to keep it on the road for a lot cheaper," said Reynolds.
Then there's another thing BMW offers over its American competitor.
"I think mainly it's the safety and technology," said Lawrence Garrett, sales associate at BMW Motorcycles of Seattle. "Our bikes come with a lot more technology than the Harley-Davidsons do. They're a lot safer. They have different ride modes, traction control, ABS."
They also have dual disc brakes in the front (which all but one of what Harley lists as its "Cruiser" bikes don't), a handy reverse gear (which Harleys don't), and air and oil cooling with both cylinders poking out into the airflow while the Harley's aft cylinder gets less air than the front one. But the Harley has a more comfortable seat, possibly a more comfortable riding position, and 120 years of hard-ridin' heritage to BMW's 100 years.
"You are on record here saying BMW offers safety and technology, and Harley doesn't?" asked my friend from Harley when she saw that assertion.
In fact, Harley does offer something called the Reflex Defensive Driver System, or RDRS, as standard on 2023 Street Glide and Road Glide bikes, but it's not available on the eight bikes Harley lists under "Cruiser" on its website. That's too bad, because RDRS offers: Cornering-Enhanced Electronic Linked Braking that applies front and rear brakes evenly despite what you're doing with the brake levers; Cornering-Enhanced ABS; Drag-Torque Slip-Control System that keeps the rear wheel from locking up or slipping during deceleration; as well as Harley's take on a Hill Holder clutch and even a tire pressure monitoring system. But BMW offers its take on those systems, plus more, on its R 18.
BMW just wants people to give their bike a try.
"Once people actually get on these bikes and they're actually riding them and taking the time to have longer than just a test drive, they are loving them," said Reynolds. "We're seeing converts."
"There's a lot of social pressure influencing people's decisions," said Klipfel. "Because of social constraints, they (traditional Harley riders) are afraid to even try it."
And once they do? Many complain about the BMW's mid-mounted foot pegs, whereas on a Harley you can put your feet farther forward. The BMW's massive cylinders prevent you from doing that (though some have installed engine protection bars and then just rest their boots on top of those).
Also, the R 18 has a distinct sideways whap-a-whap-a-whap as the cylinders move back and forth, which is particularly noticeable at stop lights when the bike is idling at 950 rpm. Harleys are much less intrusive in that regard. Those wide cylinder heads are also a bit disconcerting during cornering, when you may be worried you're going to scrape a head off (don't worry, that's the foot pegs you hear scraping).
The first time I rode an R 18 three years ago, it felt big and ungainly in a way no Harley ever had. The second time, too. As well as the time I rode an R 18 Transcontinental for a couple weeks. But last week I felt just fine on the latest R 18 I rode, putting about 400 miles on it. I loved the looks and so did everyone who had anything to say about the bike. You don't have to know about the R5 to love the R 18.
And yet, BMW still lags behind Harley sales in the cruiser segment.
"BMW's having to invest in the younger generation," said Klipfel. "But unfortunately, people don't even want to learn how to drive—let alone ride—a motorcycle."
If they had access to an R 18, I bet they'd want to ride.

Mark Vaughn grew up in a Ford family and spent many hours holding a trouble light over a straight-six miraculously fed by a single-barrel carburetor while his father cursed Ford, all its products and everyone who ever worked there. This was his introduction to objective automotive criticism. He started writing for City News Service in Los Angeles, then moved to Europe and became editor of a car magazine called, creatively, Auto. He decided Auto should cover Formula 1, sports prototypes and touring cars—no one stopped him! From there he interviewed with Autoweek at the 1989 Frankfurt motor show and has been with us ever since.
link