Culver City rolls back bike lanes for cars, Pacific Surfliner service suspended in Orange County again, and more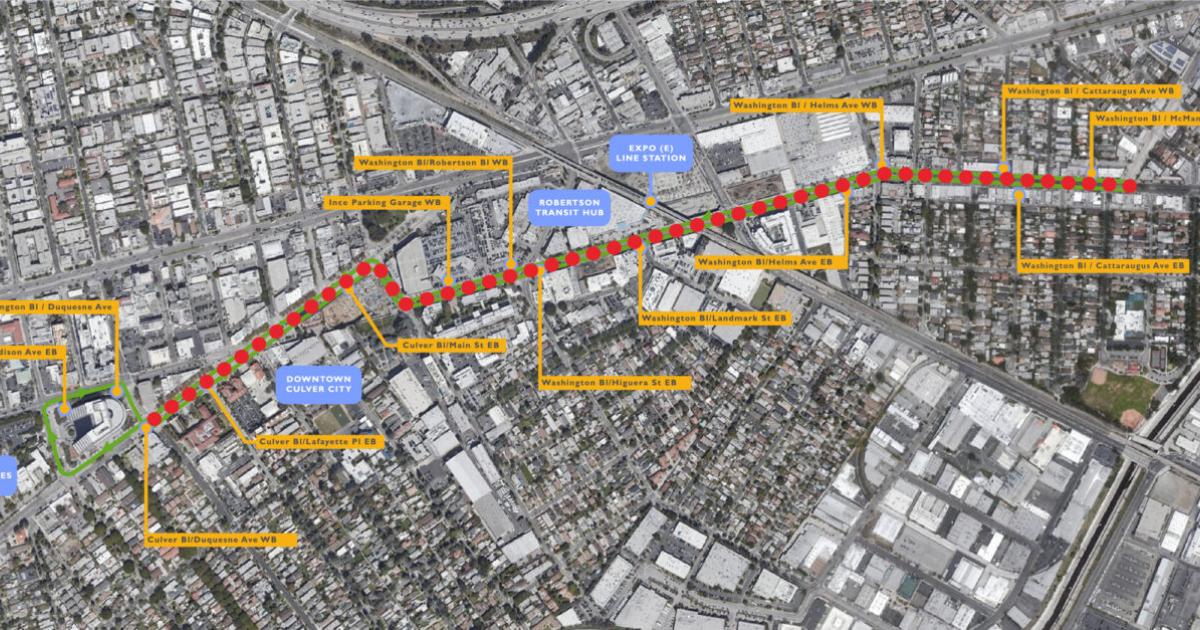 After a marathon meeting, the Culver City Council voted 3-2 on April 24 to pare back the Move Culver City pilot project, which has brought bus-only and protected bike lanes to a stretch of Washington and Culver Boulevards through Downtown and the Arts District.
The change – which comes against opposition from elected officials and active transportation advocates – will eliminate protected bike lanes from the project in order to restore additional vehicle travel lanes. The full changes, as outlined in a news release, include:
A protected, shared bus/bike lane between

Culver

Boulevard at Duquesne Avenue and Washington Boulevard at Fairfax Avenue;
A second general purpose through-lane in both directions on

Culver

Boulevard between Duquesne Avenue and Canfield Avenue and on Washington Boulevard between Landmark Boulevard and west of Helms Avenue; and
A second general purpose through-lane on eastbound Washington Boulevard between Ince Boulevard and Landmark Boulevard.
 It is estimated that a redesign of the corridor will cost $275,000, while the estimated construction cost will range between $900,000 and $1 million
A phase two of Move Culver City, which would span a segment of Sepulveda Boulevard, will continue to move through the planning and design phase, following the Council vote.
Well that didn't last long.
Just weeks after repairs to a crumbling coastal bluff allowed Metrolink and Pacific Surfliner trains to once again begin traveling through San Clemente, the discovery of falling debris has led transportation officials to once again halt service along the corridor. The new closure is located roughly two miles north of the sectino of track that recently underwent repairs.
It is unclear when service will be restored, although OCTA has indicated that the corridor will only reopen once it is determined that operations are safe to resume.
Look for updates at metrolinktrains.com/service-update and pacificsurfliner.com/alerts.
As a side note, you may have noticed some new additions to the Urbanize interface in the past month. Specifically, we launched Urbanize Dallas and Urbanize Toronto. As always, please follow on social media and subscribe the the weekly newsletters for each city.
Here's what we're reading this week:
Olympic & Whittier boulevards face year-long makeover "Community meetings are still taking place, but preliminary work could begin soon, with construction expected to be finished in the Summer of 2024″ (Eastsider)
L.A.'s water lifeline faces unprecedented flood threat. The battle to prevent calamity "Historic snowpack levels in the Eastern Sierra are expected to melt into runoff that is 225% of normal, which translates to about 326 billion gallons of water that will need to be managed, DWP officials said." (LA Times)
California's downtowns were emptied by COVID: S.F. still reeling but San Diego rebounds "San Diego has bounced back to 99% of previous foot traffic levels while Los Angeles is at 65%, according to a study by the School of Cities at the University of Toronto that recorded foot traffic based on cellphone data in 62 North American cities from 2019 to November 2022. San Francisco remained at only 31% of pre-pandemic levels." (LA Times)
Bike Lanes Recently Added on San Fernando Road and Foothill Boulevard (Streetsblog LA)
link