Here's The Truth Behind Gotham Garage's Six-Figure Concept Car And Bike Duo Sale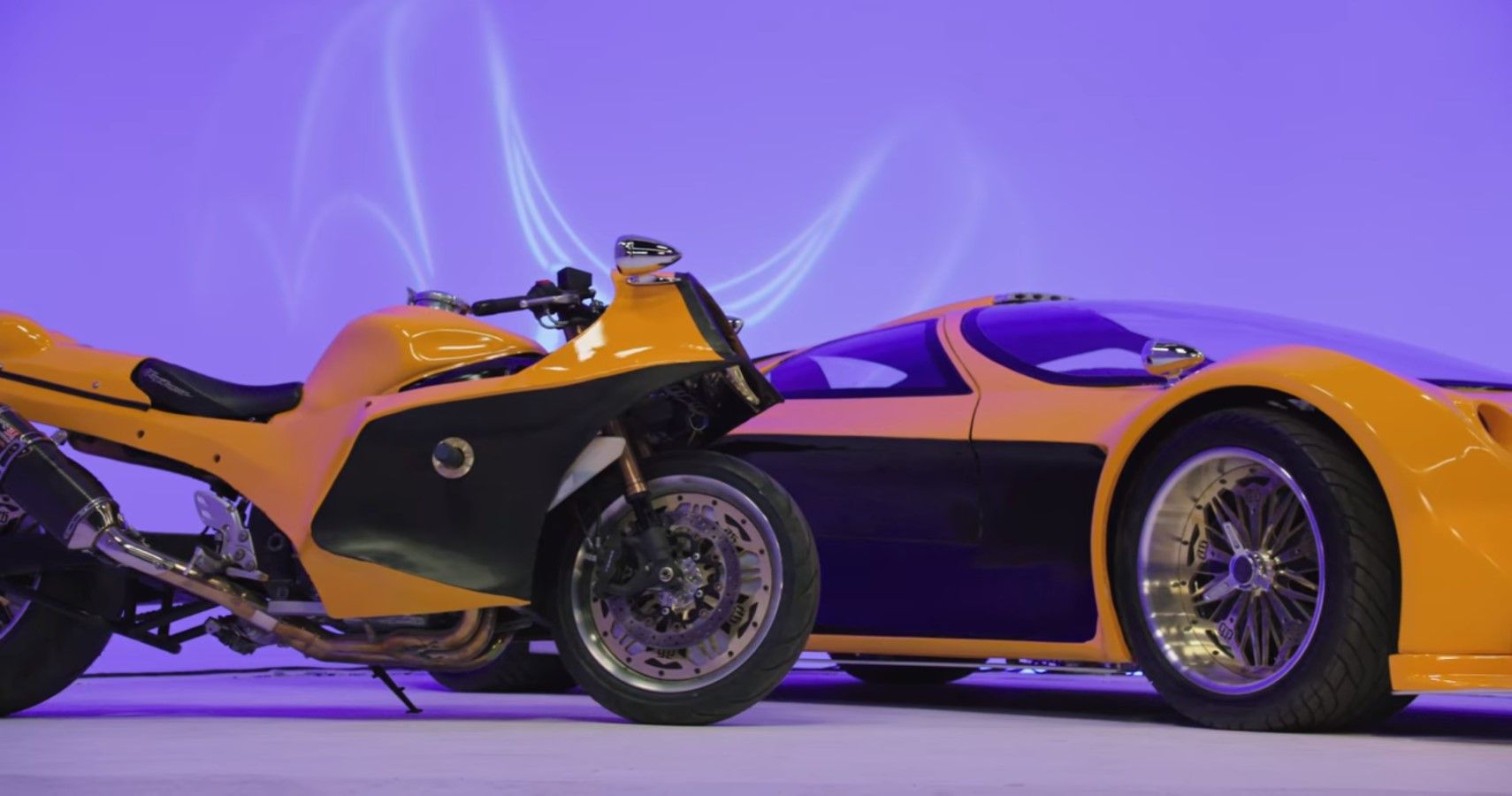 Season 3 was quite vibrant for Car Masters: Rust to Riches. There were quite a few interesting builds like the 6-figure Woody Hot-Rod, the wild-fire Harley-Davidson that Tony creatively built for his uncle, and the rare-colored Ford Stepside.
But the most ambitious and driven project for the Gotham Garage team was the Concept car and motorcycle duo. The car was Mark's dream project. This was also one of the priciest projects taken up by the team. The motivation came from acing and impressing people with their 1960 Pontiac XNR Concept Car Replica and donating it to the Petersen Car Museum.
After a roller-coaster ride, they were able to sell Mark's dream car and its twinning questionable motorcycle concept in Car Masters Season 4 for an impressive sum.
Updated April 2023: We have updated this article with more information on the questionable Gotham Garage concept car and motorcycle. The Car Masters team supposedly got a six-figure sum for the car and bike duo. But we are not quite sold on it. We give you more information on how the deal fell through and how much of it is actually true.
Related: A '28 Essex Becomes A Zero-Budget Gotham Garage Rat Rod In Car Masters: Rust To Riches Season 4
1993 Corvette ZR1 For Mark's Dream Concept Car Build
Mark has been a creative person at heart, and it's seen from the bold and abstract builds that Gotham Garage has been giving us over the years. He also happens to have a particular dream sketch that has been fine-tuned over the years. He has been controlling his passion to convert this 15-20-year-old dream sketch into reality.
While certainly not the best-looking car we've ever seen, the design was futuristic, with smooth elongated lines and curved glasses. While it sure is an ambitious project, it also was something that was going to cost the team a fortune.
Mark chose to go for a 1993 Chevy Corvette ZR1 to underpin his dream concept car. It was chosen for its easy accessibility along with a low-slung high HP package. The stock American sports car pumps out 405 HP and 385 lb-ft of torque from a sweet-revving V8.
With a low-slung form factor and a sturdy chassis, along with the beefy exhaust potential, the ZR1 happened to be the perfect choice for Mark, and Impressively, Shawn was quick to source a well-kept specimen for the team for just $18,000.
Transforming The Corvette Into A Gotham Garage Concept
The team started by stripping the car's body out. Then Mark calls up Starr Creations, who had also crafted the XNR's body for Gotham Garage. These guys use laser beams to digitalize the car's form factor and dimensions and then mold a body that would fit like a glove.
The team went ahead with refining and fitting in the fiberglass body. It got a huge convex windshield along with a quad-headlight and Hexa-taillight setup. They went all-out with a humongous rear spoiler and wild-looking splitter in the front and rear. It was not tastefully done, but kudos to the full utilization of creativity.
The interior was given brown upholstery and individual gauges spread across the center console. It was also given LCDs behind the steering wheel that projected the front and rearview using cameras for a futuristic appeal. The doors were in-house-developed dihedral hinge doors. All of this was coated in a bright shade of yellow to show its loud appeal and then topped up with Gotham Garage accessories.
A Suzuki Hayabusa Gets Morphed Into Mark's Concept Bike
While in the middle of the concept car build, Mark was looking kinda dull. He wanted more! And that's how the concept bike idea came into the picture. To get hold of the bike, they decided to soup up the Toyota Prius Hybrid that they got as a trade car in the Woody Hot-Rod deal.
It was a once-in-a-blue-moon deal, and Shawn got lucky to find someone willing to trade a Suzuki Hayabusa for the Prius! Tony and Constance were given the task of converting the Hayabusa into a twin that goes along with the concept car. ​​​​​​They swapped in a longer and wider swingarm to hold huge 300 mm tires.
The custom body was fabricated from steel and then welded onto the frame. The final bits consisted of Gotham Garage accessories that were the same found on the car. All of this was topped off with the same bright yellow paint job that the car got.
Related: An International Scout 2 Gets Beefed Up In Car Masters: Rust To Riches
Here's How Gotham Garage Managed To Sell The Concept Car
The Car Masters crew ran into trouble while nearing the build's completion as they came to know of auctions being called off because of the Covid-19 situation. Tony pitched in the idea of holding an online auction. Shawn and Mark were skeptical but went ahead as it was the only option they had. The auction started from $100,000 and topped out at $195,000. But that was too low for Mark, as he wanted at least $250,000 on the duo. And thus, Gotham Garage's Concept car and bike duo stood unsold at the end of Season 3.
In Episode 5 of Season 4, we finally get a surprising update and closure on the concept duo. Gotham Garage gets a surprise visitor in the form of Nick Smith. Nick owns a consultancy firm called classicavenue.com that connects high-end clients with radical automobiles.
One of his clients showed interest in the concept duo, and he came over to check them out. And shockingly, after a bit of to-and-fro, Mark finally sold his concept duo for an impressive $285,000. This was well over the team's expectation of $250,000. And the Car Masters team finally got their big paycheck.
Did Gotham Garage Actually Sell The Concepts For Six Figures?
Looking at the poor build quality of the concept car and motorcycle, a six-figure sum for the concept car and motorcycle is clearly a tough pill to swallow. Also, the prices of various components and even the donor vehicles were questionably inflated in the show. Car Masters: Rust to Riches being a scripted show, this comes as no surprise. This is also why the $285,000 sale of the Concept duo should be taken with a grain of salt. The final sale price and even the buyer might all be cooked up just to spice things up for the reality TV show. That and the whereabouts of the Gotham Garage concept car? Well, we will never know!
Source: Netflix
link