How Radar-Linked Brakes Work On Motorcycles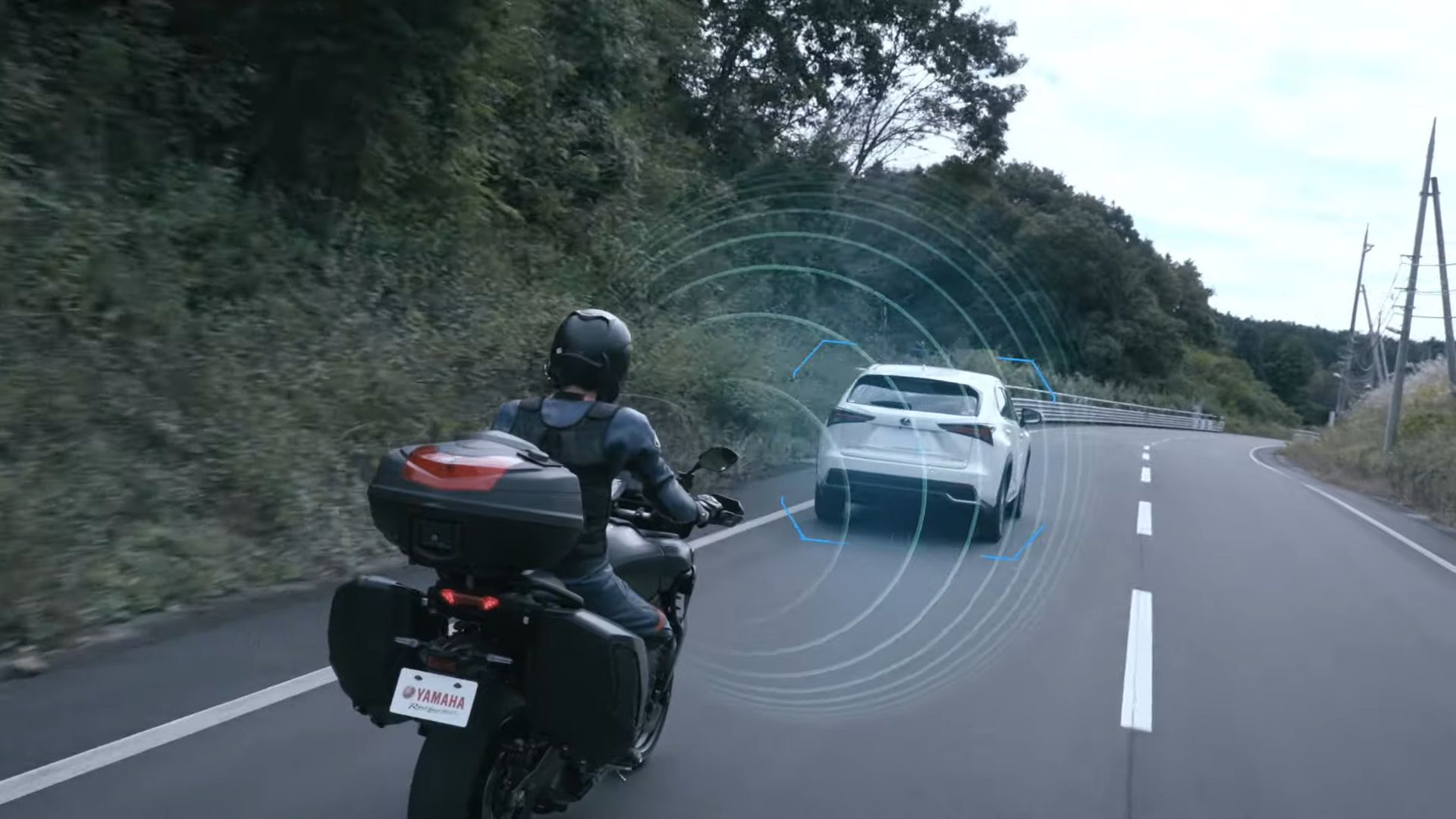 Riding a motorcycle is one of those affordable everyday activities one can engage in that is fun, efficient, and some might say, even therapeutic. A motorcycle can turn that daily, boring commute into an engaging and yet, relaxing experience. It could one look forward to a long road trip instead of dreading it. Not to mention, riding a motorcycle is one of the cheapest means of traveling longer distances available.
Unfortunately, nevertheless, that doesn't come without some significant trade-offs that warrant attention and considerable thought. Sure, being exposed to the elements can be one of the best parts about riding a bike, but it can also be its undoing during winter time or pouring rain. The sun can be unforgiving as well, and unless you are moving through the wind on a hot sunny day, sitting in traffic with proper riding gear, something every rider should always do, can become quite unpleasant rather quickly.
But perhaps the most significant and important trade-off is the one concerning safety, both for the rider and passenger, if riding two-up, and other road users. It's no secret, sitting inside a big steel cage like most modern vehicles on the road today is bound to offer more protection in the case of an accident than riding a motorcycle. Thankfully, as automotive technology evolves, more safety measures can be leveraged to help motorcycle riders be safer and less prone to be involved in any unfortunate mishap. And that brings us to the topic at hand.
All the technological information provided on this article, as well as technical specifications, were sourced from official releases from the manufacturer.
RELATED: Get Ready America, The Radar-Equipped Yamaha Tracer 9 GT+ Is Coming
Yamaha Ups The Ante With The Radar-Equipped Tracer 9 GT+
Any motorcycle company that sets out to research, develop and implement technologies that make riding safer deserves accolades, and by that standard, Yamaha has earned a standing ovation. For the 2023 model of its Tracer 9 GT+ Yamaha has fitted a new radar-linked unified brake system operated with the help of a hydraulic unit, which stands as an unprecedented safety innovation for motorcycles. Equipping a motorcycle with a radar has many benefits when it comes to other features, such as adaptive cruise control, for instance, and there are other motorcycles on the market today with radar technology for precisely that.
The key takeaway here is that Yamaha took this technology one step further with its unified braking system, and also one step down, if you will, when it comes to applying it at a motorcycle that sits at a lower, more accessible price range. How the system works is rather ingenious. For starters, it seamlessly distributes braking force applied by the rider between both wheels for a more controllable braking that unsettles the bike less. Most riders, even experienced ones, will at one point or another apply the brakes in a biased way, either putting too much or too little force on either the rear or front wheel. Yamaha Unified Brake System does away with that.
RELATED: Upcoming Moto Guzzi Stelvio ADV Spotted Testing With Radar!
The System Is Not Obtrusive
Motorcycle riders can be a proud bunch, and the idea of autonomous features such as adaptive cruise control, or other things that get in the way of his or her inputs, are sometimes taken with a grain of salt. Even tested and proven rider aids such as anti-lock braking systems are frowned upon by some. While that may represent a rider at the far side of a spectrum, it is reasonable to assume most riders don't want their bikes doing things they did not intend them too.
And that's what's great about the Yamaha Tracer 9 GT+ Radar-Linked Unified Brake System. This is not an autonomous collision avoidance system, and it will only work in correcting the rider's brake bias and applied braking force under certain conditions, such as:
The Brake Control is Turned ON.
The rider is actively braking.
A vehicle on the road ahead is getting too close to the bike, AND the rider applies the brakes.
If the rider for example has cruise control ON and a car merge in front of the Tracer 9 GT+, the dash will display a warning so that the rider can take action. Once the rider applies the brakes, cruise control is turned off and only then the system will work in distributing the ideal brake force between the front and rear wheels. If the system deems, with the help of its radar, that the braking applied by the rider is not sufficient to avoid a collision, then it will assist the rider by applying more braking force. The idea behind the system is to provide a natural braking feel while at the same time delivering additional stopping force when needed.
RELATED: CFMoto Beats KTM To Join The Prestigious Radar Club
It Gets Even Better With Active Suspension
The Unified Brake System works in conjunction with the Tracer 9 GT+ integrated KYB Semi-Active Suspension. An active damper system was developed jointly by Yamaha and KYB to deliver optimal working conditions on any situation. This includes overall performance, as well as comfort. Any rider who has had to hit the front brakes hard at any given time knows how conventional forks tend to compress excessively, lowering the front too much, transferring too much weight, and unsettling the bike as a whole.
When the unified brake system comes into play, the hydraulic unit also works on the suspension control, adjusting the forks' compression while braking takes place. This controls the front end descent much more effectively, avoiding a sudden and strong forward pitch. This will in turn keep the rider and the bike composed even when hard braking is unavoidable.
RELATED: The 2023 Tracer 9 GT+ Is Yamaha's First Radar-Equipped Motorcycle
Why The Tracer 9 GT+
The Tracer 9 GT+ sort of fits the role of a halo bike for Yamaha. It's priced close to the top of its motorcycle's full lineup at $16,499 MSRP, and it belongs to the very popular segment of sport touring motorcycles, which attracts a demanding clientele, usually with long distance travel on the agenda. And the Tracer 9 GT+ comes ready off the showroom floor with the right package for that. The GT+ is a premium motorcycle with a very strong performance, able to provide more than enough passing power and cruise effortlessly at highway speeds. Yamaha made it so that it also offers optimum comfort for riding long distances with ease.
2023 Yamaha Tracer 9 GT+ Specs
| | |
| --- | --- |
| Engine | 890cc inline-three |
| Bore x Stroke | 78.0 mm x 62.1 mm |
| Compression Ratio | 11.5:1 |
| Transmission | 6-speed with chain final drive |
| Fuel Capacity | 5.0 Gallons |
| Fuel Economy | 49 MPG |
| Power Output | 117 horsepower |
| Torque | 68 pound-feet |
The added technologies on the Tracer 9 GT+ make that experience even better, safer, and more relaxed for the rider and passenger. As with any safety improvements that are useful, as time goes on it is to be expected that Yamaha's radar technology and its unique Radar-Linked Unified Brake System will trickle down through its lineup, reaching even more affordable bikes. And that's great news for conscious riders who want to ride their motorcycles, have fun responsibly, and go about their travels as safely as possible.
link