Obit: Windsor teen killed in crash 'loved motorcycles, loved life'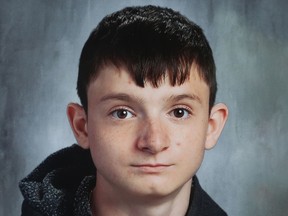 Article content
Dakota Rivard, Feb. 20, 2007 — Oct. 27, 2023
Dakota Rivard lived his short life on his own terms, pushing his limits and depending only on himself, says his grieving mom.
Article content
But Jaime Poisson has been most surprised by the huge outpouring of affection for him since his tragic death.
The 16-year-old died Oct. 27 following a collision involving two motorcycles on Windsor's E.C. Row Expressway.
Article content
"Through this tragedy, I found that Dakota touched a lot more people than I had ever known," Poisson said. "I'd always known him to be just the most bright, determined little boy, but he was always kind of quiet.
"Since going to high school, he just cast his net out and there's so many people that have nothing but nice things to say."
Dakota, a Grade 11 student at Riverside secondary school, had a deep love for the exhilaration and the feel of riding, whether it was a BMX bike or a motorcycle.
"He loved his motorcycles. He loved life … in his way," Poisson said. "He was unapologetically himself is what I used to say to him, because he wouldn't give in.
"You couldn't convince him to do something he did not want to do."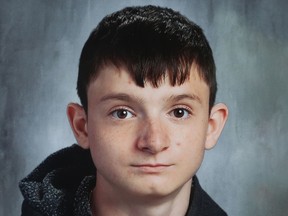 Poisson said her son has been on two wheels since he was two. He spent hours "tinkering with his bikes.
"He told me right from a young, young age, he was riding motorbikes and 'I'm going to have a motorcycle, mom,'" she said.
"He worked at that. He made sure that, as soon as he got his licence, the day after his (16th) birthday … he got that licence right away, first thing in the morning and he's been on the go ever since."
Article content
Dakota leaves behind his dad, Ryan Rivard, and a "big, blended family" — siblings Aryana Rivard, 17, Alexis and Dante Rivard, 13, Poisson's step-daughter Adrienne Lesperance-Fields, 21, and cousins Kendall Warlow, 25, and Kylie Warlow, 24.
"They're just siblings," Poisson said. "They grew up together."
And Dakota was like an uncle to Kylie Warlow's two children, "who he just adored."
Poisson said Dakota's death has left a gaping hole in their lives.
"It's surreal," she said. "It feels like a crater.
"I'm doing OK at the moment — just went over funeral arrangements (and) picked out songs.
"That type of stuff makes me feel happy because I know the stuff that he loved," she said through tears. "But at the same time it kind of rips it open again."
Related Stories
Teen dies in motorcycle collision on E.C. Row

Motorcyclist perishes from injuries suffered in car collision

None
Families First Funeral Home, 1065 Lauzon Rd. in Windsor, is handling the funeral arrangements.
Visitation will take place Saturday from 6 to 9 p.m., Sunday from 2 to 5 p.m. and 6 to 9 p.m. A Celebration of Life service will be held Monday at 11 a.m. at the funeral home.
Share this article in your social network

link