Petrobras' P-71 FPSO Hits Maximum Production Level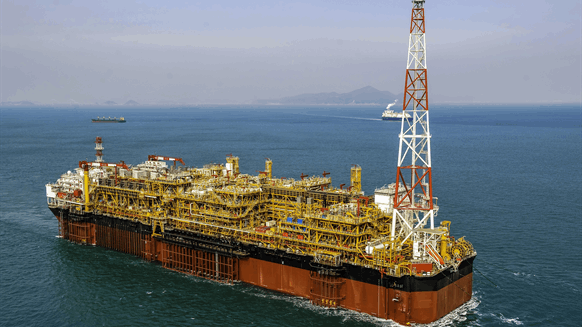 Petroleo Brasileiro SA (Petrobras) said its platform vessel P-71 has achieved its maximum production level of 150,000 barrels of oil per day, targeting the pre-salt layer of the Santos Basin.
The company noted in a media release that the floating production, storage and offloading (FPSO) unit is the only production platform in Itapu, some 124 miles off the coast of Rio de Janeiro.
This field is fully operated by Petrobras under two regimes, Onerous Concession and Shared Production. Pra-Sal Petroleo (PPSA) manages the Shared Production contract, and is a party in the Onerous Concession contract.
The P-71 is the sixth FPSO on a replicated template installed in the Santos Basin. This set of vessels has a standard engineering design and large production capacity, according to Petrobras. It also includes some advanced technology that reduces greenhouse gas emissions, such as, for example, what is known as the Flare Gas Recovery System, which makes use of the gas generated during the production process and reduces the amount that needs to be flared off and released into the atmosphere, it said.
"Petrobras has an excellent combination of skilled technical staff and cutting-edge technology, which has helped to increase pre-salt production considerably. This combination benefits not only the company, because its operations are successful, but it is also important for the growth of the industry and the contribution by our suppliers", declared Carlos Jose Travassos, director of engineering, technology and innovation at Petrobras.
The unit started production mid-December 2022, even though it was originally scheduled for 2023.
Besides oil, the P-71 can process up to six million cubic meters (211.9 million cubic feet) of gas per day, in addition to storing up to 1.6 million barrels of oil.
To contact the author, email [email protected]

link