Suzuki launches free service-activated warranty for cars and motorcycles
Suzuki GB has followed the lead of Toyota in offering a service-activated warranty to the owners of cars and motorcycles aged up to seven years or 100,000 miles.
The Japanese car brand's director of automobile Dale Wyatt said that the business "wanted to find a way to reward our customers for their loyalty" and introduced the new initiative as part of a bid to "support our customers in these challenging economic times.
Launching on April 3, Suzuki's Service Activated Warranty is offered for free by service departments within its 158-site franchised car and motorcycle retail networks.
It will be applied to any vehicle that undergoes a service after the end of its three-year, 60,000-mile period, the brand said, remaining in place until renewal at the next qualifying service.
Denis Houston, Suzuki GB's director of aftersales, said: "At Suzuki, customer experience and retention are paramount, the launch of Service Activated Warranty will certainly enhance this for the future, ensuring our customers get the best levels of service, fitment of genuine parts and avail of the expertise within our dealer network rather than going to a non-franchised repairer once their manufacturer warranty expires.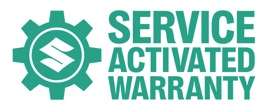 "Offering Service Activated Warranty free of charge to both our car and motorcycle owners is unique and we are very proud to offer this as a strong message in support of our customers."
The brand said that major components are covered by the scheme before adding that, should a customer decide to sell their vehicle between services and within the seven-year qualifying period, the warranty can simply be transferred to the next owner.
A Service Activated Warranty can also be applied to a Suzuki vehicle that has been purchased privately or has a gap in its dealer service history providing it goes through a Suzuki Vehicle Health Check in the first instance.
Toyota introduced its 10-year, 100,000-mile service activated warranty scheme as part of efforts to boost retention in its approved aftersales network back in June 2021.
In a dealer profile with Dacia last summer, brand director Luke Broad expressed his admiration for the scheme and said it was under consideration by the budget brand.
Suzuki's implementation of a service activated warranty comes in the same month that it scooped the Institute of Customer Service (ICS) Awards 2023 Trusted Quality Provider accolade.
Wyatt, who collected the award on the night, has emerged as a vocal critic of the car retail sector's move to agency model distribution in recent years and recently appeared on the AM News Show podcast.
link