The 4 coolest motorcycles from the Japan Mobility Show
From Yamaha's updated self-balancing Motoroid to a hybrid Kawasaki, hot two-wheeled machines ruled in Tokyo
Article content
Auto shows here in the Great White Frozen North pretty much shun motorcycles. Too provincial, perhaps. Sullying the good name of luxury automakers, almost assuredly. And the same applies in America. Oh, Honda and Yamaha may trot out a few of their two-wheeled toys, usually the family-friendly Gold Wing and the instantly recognizable R1250 GS, respectively. But that's about it. North Americans, it seems, don't feel comfortable with mixed mobility modes.
Not so in Japan, where bikes are big business. Hence why Honda, Kawasaki, Suzuki, and Yamaha all had car-company-sized displays at the Japan Mobility Show, and were amongst the most keenly visited. Here are a few highlights of the motorcycles displays.
Yamaha Motoroid2
Cars may self-drive, but motorcycles, one step ahead technologically, can self-balance. At least, Yamaha's Motoroid2 can. In fact, it could follow its owner around at a walking pace, all the while balancing itself with such ease that it can literally dance to music. Absolutely incredible!
Article content
This is, in fact, the second such self-balancing motorcycle Yamaha has demonstrated, and by far the most sophisticated. It's powered by an electric motor built into the rear hub — energized by a battery built into the lower frame — and the rear swing-arm suspension can not only absorb bumps, but can lean independently of the rest the frame to help steer the motorcycle.
But the really trick thing about the Motoroid2 is that it can balance itself. In fact, while it does indeed have a sidestand — an automatically deploying one, no less — it can actually hold itself upright while virtually standing still. It's all thanks to something Yamaha calls AMCES, or Active Mass Center Control System. Essentially, the Motoroid2 has movable batteries — the heaviest part of the motorcycle — to alter the motorcycle's centre of gravity. Move the batteries to the left, and the bike wants to lean to the left; to the right, and it wants to lean to the right.
Article content
To balance itself, then, the onboard computers — controlled by an Inertial Measurement Unit much like those used on current high-performance motorcycles — move the motorcycle's centre of gravity underneath the centreline between the two tires, essentially what a motorcyclist does when riding a bike at speed. The difference, of course, is that the Motoroid2 can do this, much like an expert trials rider, while at a standstill. In other words, following its owner around at walking speed is child's play for this high-tech two-wheeler.
Recommended from Editorial
Motor Mouth: Toyota's finally going all-in on EVs

The Honda Prelude concept nails ethos of the original
As to how this technology will be used, it's hard to fathom. On the one hand, if your balance is so far askew that you can't ride a motorcycle, Can-Am's Spyder will keep the bugs in your teeth without plopping you on your butt. And who wants to ride on the back of a self-driven motorcycle with no rider?
Article content
On the other hand, Yamaha's demonstrations reveal a motorcycle that won't fall over at a stoplight, and can even resist being pushed over. So there may be some distinct safety advantages after all. Practical usage issues aside, though, the Motoroid2 is an impressive — and super-scary — demonstration that the modern era of computer control really can replace we humans.
Suzuki Hydrogen Burgman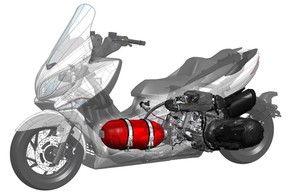 Just as Toyota was taking the wrappers off its second-generation hydrogen-fuelled Corolla — which we'll have more on later — Suzuki was showing off a new hydrogen-powered scooter. Like Toyota's Corolla, the Suzuki Burgman uses hydrogen to fuel an internal-combustion engine, this one a 400-cc four-stroke single. The company has built fuel-cell-powered two-wheelers before, but this is the first that marries hydrogen and piston power.
Article content
In fact, the Burgman is part of Japan-wide research into hydrogen-fuelled internal combustion. Alongside Honda, Yamaha, and Kawasaki, Suzuki is keen on developing hydrogen-fuelled combustion — its role in the consortium is the "element study on functionality, performance, and reliability of hydrogen-powered engines." The Burgman, apparently, looks to be its testbed for the conversion.
Though the engine is largely unchanged — if Toyota's work on H2-ICE is any indication, the 400-cc single needed different ignition timing, direct injection, and some work on the cam profiles to optimize H2's quicker burn characteristics — it did have to move the swing arm and rear wheel back about 200 millimetres in the frame to make room for the high-pressure 10,000-psi hydrogen tank sitting beneath the rider's feet.
Article content
Kawasaki Ninja 7 Hybrid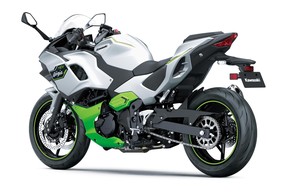 Looking for all the world like an everyday Ninja 400 — with a really jazzy paint job! — Team Green's Ninja 7 Hybrid is a combination of high-revving 451-cc twin with an electric-motor boost. Brought together by a semi-automatic gearbox — with shifter switches on the handlebar, no less — Kawi's "electrified" Ninja is said to boast 69 horsepower, though because of the 12-hp electric motor's low-end grunt, it's said to deliver "instant acceleration to rival that of a 1,000-cc-class supersport model from a standing start."
A battery located under the seat allows the little Ninja to drive a short — though unspecified — distance without troubling the gas engine. Alternatively, if spirited riding has drained the small 48-volt battery, the HEV can cruise on gas power alone to recharge the lithium ions. It also sips but four litres per 100 kilometres, says Kawasaki, which translates into 70 Imperial miles per gallon. Europeans will be able to buy a 2024 Ninja 7 Hybrid next spring, but there's no word yet on North American availability.
Article content
Yamaha XSR900 GP
Hardly avant-garde — more like a look into a distant rearview mirror — the Yamaha XSR900 GP was nonetheless one of the hits of the show. Essentially a garden-variety Yamaha triple dressed up in the classic Marlboro colours of the "King" Kenny Roberts era, the XSR900 GP is totally intoxicating.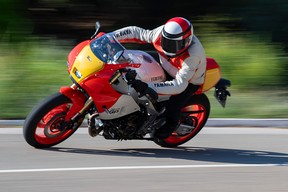 Take the styling—pure genius. The colours, of course, reach back to the heydays of American riders — first Kenny Roberts, then Eddie Lawson, Kevin Schwantz, Freddie Spencer, and Wayne Rainey — and the shape of the seat and rear tailpiece, as well as the fairing, are truly period pieces. Everyone tries to capture the resto-nostalgic look. Yamaha hits it out of the park!
Underneath that evocative skin, it's not half-bad either. For one thing, the XSR's 890-cc triple is perhaps the best powerplant in Yamaha's lineup. For another, there's a brilliant three-into-one exhaust system that looks the business, too.
Article content
Yamaha's trademark Deltabox frame is also on full display, and it's backed up by a fully-adjustable upside-down front fork — what King Kenny wouldn't have done for one of those back in his day — while the brakes are four-piston calipers gripping large 298-mm discs. The 17-inch rims are spin-forged, and they wear Bridgestone Battlax Hypersport S23 rubber.
The only downside to all this walk down MotoGP's memory lane is that, so far, the XSR900 GP has only been confirmed for the Japanese and European markets, where it's due to be launched in the spring of 2024. Let's hope Yamaha USA — which basically controls what gets imported into Canada — has the smarts to recognize an icon when it sees one.
link