The Memphis Mafia Wants Their Triumph Motorcycles Back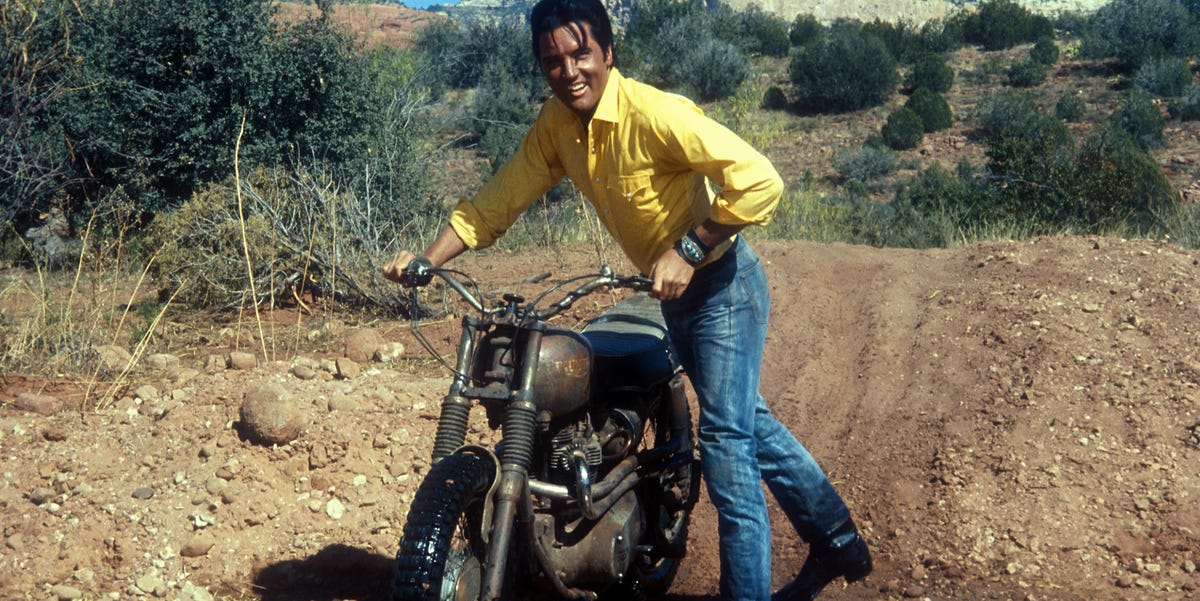 Elvis Presley and motorcycles are somewhat synonymous, but the mental picture for many Americans would be the King and his accompanying Harleys.
But the rock star/movie star had affinities for a motorcycle of the British variety as well, purchasing a fleet of Triumph bikes for himself and his entourage in 1965.
Since then, these bikes have gone missing and Triumph is asking for help in finding the bikes for historical preservation and iconographic reasons.
---
This is the kind of story that Lester Bangs would probably laugh right off the back pages of Creem Magazine. Sure, he was only 17 years old in 1965, but there is little doubt in my mind that the cynic wouldn't find Elvis Presley, the so-called King of Rock 'n Roll, buying a fleet of Triumph motorcycles very cool.
Nearly 60 years later, however, the story of Elvis purchasing nine Triumphs is more of an unsolved mystery than an example of rockstar opulence. Of course, the Tupelo, Mississippi-born artist was a motorcycle enthusiast and famously loved his Harley-Davidsons, but it was through friendship that he was introduced to the Meriden-built Triumphs.
Jerry Schilling, member of the newspaper-dubbed Presley entourage known as the Memphis Mafia and former Beach Boys manager, purchased a Triumph T120 650 Bonneville in 1965, bringing it by Elvis' house in Bel Air, Los Angeles, shortly after delivery. When the King asked to go for a ride, Schilling naturally obliged and Elvis was hooked.
So taken by the rumbly, torque-filled British twin that he called up the dealership in Santa Monica, then called Bill Robertson and Sons and ordered nine Triumphs for delivery that night. That's a steep ask on a few hours' notice, but the dealer managed to deliver seven units that night, made up of a mixture of 650 TR6s and twin-carbureted 650 T120s.
Two more bikes arrived in the following days, and the Memphis Mafia formed a private riding club of sorts, rolling up the Pacific Coast Highway on Sundays. For context, the members of this entourage were Marty Lacker, Red West, Billy Smith, Richard Davis, Joe Esposito, Jerry Shilling, and Mike Keeton. There's a whole story to who these people are, too.
The Triumph Bonneville is well known at this point as the bike of choice for stereotypical, cafe-racing-isn't-dead-or-dumb, metropolitan riders. But the Bonneville has earned its enduring legacy as a fantastic compromise of characterful chassis tuning, emotional power delivery, and comfort.
In comparison to the Harley that Elvis was accustomed to, the 1964 Bonnevilles would have been ultra-high performance, with twin carbs on certain models and a Bonneville salt flats land speed record behind it. Offered in Gold and Alaskan White for the T120 and Hifi Scarlet and Silver Sheen for the TR6, these Triumphs were as stylish as ever.
But all nine of these motorcycles are unaccounted for in 2023. Beyond the original checks used to buy the models and some photos of the Mafia riding around, there is no paper trail that accompanies any of these bikes. And that's a shame, given the historical significance of the brand, the bikes, and the people who rode them.
"Triumph is now launching an appeal to fans around the world to help track down or uncover the fate of these bikes," the release reads. "Triumph's researchers are keen to hear from anyone who has a lead on what happened to one of these bikes, or perhaps a last known location."
If you have any information related to the whereabouts of one of these historic bikes, please contact Triumph at [email protected]. In the meantime, Triumph is capitalizing on this slice of history with a Gibson Les Paul Guitar brand deal. Line up now for your one-of-a-kind custom Elvis Presley T120 model, Triumph says.
Designed by artist J Daar, the retro Bonneville is inspired by the 1964 Memphis Mafia bikes, the 1968 Stay Away Joe Desert Sled, and the iconic 1968 Comeback Special look. Unveiled at the Barber Vintage Festival in Birmingham, Alabama, the custom Bonneville T120 motorcycle and matching Gibson Les Paul guitar are soon up for auction at Graceland.com.
Proceeds from the auction will be donated to the Elvis Presley Charitable Foundation, eventually being sent to Goodwill Homes, a Memphis facility that provides counseling and services for abused children and their families.
Should iconic vehicles from television or movie history be preserved or driven? Why or why not? Please share your thoughts below.

Associate Editor
A New York transplant hailing from the Pacific Northwest, Emmet White has a passion for anything that goes: cars, bicycles, planes, and motorcycles. After learning to ride at 17, Emmet worked in the motorcycle industry before joining Autoweek in 2022. The woes of alternate side parking have kept his fleet moderate, with a 2014 Volkswagen Jetta GLI and a 2003 Honda Nighthawk 750 street parked in his South Brooklyn community.
link