Top 10 Motorcycles For Senior Riders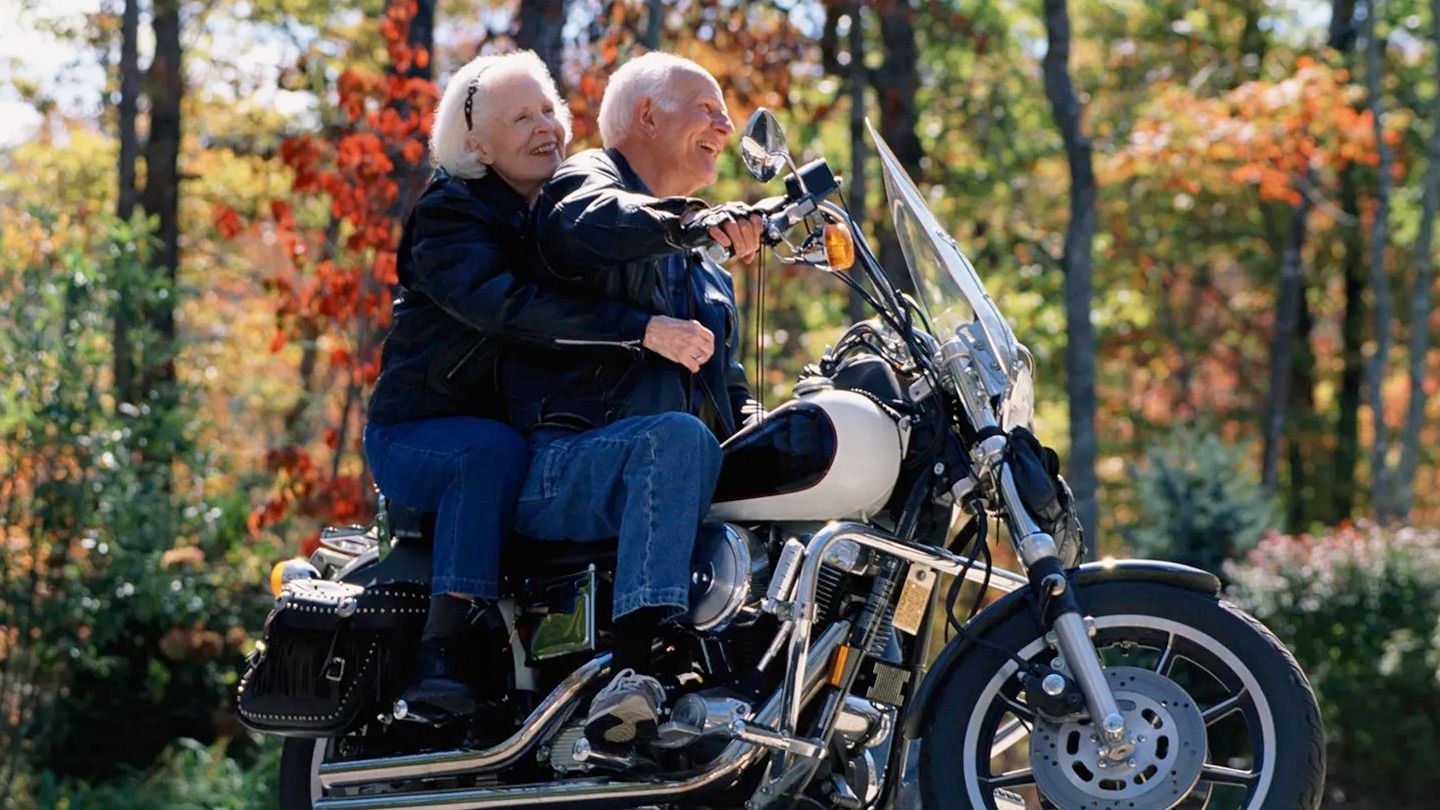 There is some truth behind the saying, "You are never too old to start riding." And if you've ever enjoyed the thrill of riding on two wheels during some part of your life before, but had a very long hiatus, you have every reason to get back and relive that thrill again. The great thing about being a senior rider compared to a younger newbie is that chances are your finances will be slightly better, opening more options for you to get started, and insurance companies are also more willing to insure a more mature rider.
If this will be your first motorcycle purchase ever, brought on by some midlife crisis, just know you are not alone. There are many riders who actually finally consider getting a motorcycle later on in life. Unlike other best motorcycles for beginners lists that usually cater to younger riders, this list is made for older riders who tend to consider certain factors such as comfort, ease of handling, and other specific preferences that are less focused on a bang-for-your-buck criterion.
Motorcycles can be more than just a recreation vehicle, opening the doors to some extraordinary journeys that some never thought they could take. So, it's time to look past the stigma of old age and embrace your adventurous side, because there is no time like the present to enjoy the thrills that motorcycling has to offer. To help you get started, here is our list of 10 motorcycles that we recommend for senior riders.
Related: Best Beginner-Friendly Motorcycles For Women
10
Honda Rebel 500
For men going through a midlife crisis, there is a clear trend for those who either opt to get a sportscar or rush out and get a motorcycle. Either way, they are probably going to get yelled at by their partner. For those who get a motorcycle, more often than not they choose to get a cruiser. But instead of getting the typical bar and shield branded cruiser, we recommend the Honda Rebel 500.
The Honda Rebel 500 comes recommended for senior riders who have seen it all and just want something more tame, as well as being a good choice for newer senior riders. This lightweight cruiser has all the looks of a badass cruiser while offering reliable performance that is fun to ride. The 471cc parallel-twin engine produces 45.9 horsepower and 29.9 pound-feet of torque. It may not be a bike to take on long journeys, but it is a satisfying motorcycle that will last you a lifetime.
9
Kawasaki Versys 650
If you have dreams of taking your bike on long journeys, but don't want your body to feel like you've just ridden a horse, the Kawasaki Versys 650 might be a good option. Although marketed as an adventure bike, the Versys 650 feels more suited for asphalt than gravel. Thanks to its upright and relaxed sitting position, senior riders will praise how comfortable riding this bike is. The seat height may be challenging for shorter riders, but Kawasaki offers a lowering kit for those who need it.
It is fitted with a bunch of electronic features that make the Versys 650 easy to ride, such as traction control, adjustable ABS, and ride-by-wire. The only thing lacking is cruise control which would make this bike the ultimate middle-weight tourer. Although the 649cc parallel-twin engine is the same as the one in the Ninja 650, it has been tuned differently to deliver smooth and responsive power throughout the rev range. Kawasaki claims that the Versys 650 produces 64 horsepower and 47 pound-feet of torque at 7000 RPM, which is enough power for beginner riders to handle.
8
Royal Enfield Himalayan
The Royal Enfield Himalayan may look like a street bike dressed up to work off-road, but this Indian adventure bike was made to conquer the rural roads of India. This lightweight adventure bike is one tough nut and made to contend with the likes of the KTM Adventure 390 and BMW G 310 GS. Although it lacks the modern technology found in its contenders, this bike offers power that is very manageable and is excellent for senior riders who want to dip their feet in adventure riding. Experienced riders will also love how raw this bike is, as there are minimal electronic aids that you can rely on to get yourself out of questionable situations when off-road.
The 411cc single overhead cam fuel injected single cylinder engine delivers 23 horsepower and 32 Nm torque at 6500 rpm. The low seat height makes it very approachable for different riders, but the suspension has long travel, which is great for rough roads, yet on the highway, it does feel a bit sluggish. Senior Riders will adore the relaxed riding stance formed by the raised handlebar and neutral foot pegs. The saddle of the Himalayan is also the most comfortable for an adventure motorbike in its class.
7
Harley-Davidson Street Glide
If a Harley-Davidson is the only thing on your mind, we suggest skipping past the Sportsters and just getting yourself a Harley-Davidson Street Glide. A Road King would be another contender if you are more into the classic Bagger style, but they are pretty much the same bike. The Street Glide is one of Harley-Davidson's grand American Tourers that has been jam-packed with touring features, so you know you are sure to get a comfortable ride on this massive two-wheeler. Newer senior riders may want to think again before purchasing one because the weight can be a little overwhelming when maneuvering in the parking lot.
The Street Glide is fitted with the Milwaukee-Eight 114 V-twin, mated to a six-speed transmission that Harley claims to produce around 100 horsepower and 111 pound-feet of torque. Being a full-fledged tourer, Harley has fitted some very cushy seats that make you feel like you are straddling a sofa. The high-performing front and rear suspension provides a very comfortable ride and is sure to prevent chances of back pain in senior riders.
6
Triumph Bonneville T100
Older riders may want to reminisce about a time they had on their first bike, hence the resurgence of many retro-styled bikes on the market today. Out of the many classic-designed bikes, the Triumph Bonneville T100 is probably one of the best that comes to mind and is also a good first bike for a newbie senior rider. The fairly low 31-inch seat height makes it very approachable, even for shorter riders, and the power ensures you won't quickly get bored with it. Add to that a comfortable riding position, and great handling, plus all at a considerably affordable price, and you have yourself a great bike for both young and old.
Keeping with the classic styling, the Bonneville T100 is fitted with a 5-speed rather than a 6-speed transmission. The liquid-cooled 270-degree parallel-twin engine produces a tame 55 horsepower and 59 pound-feet of torque which means that it's an easy ride, even for beginners. Despite its classic styling, the Bonneville T100 is fitted with modern features such as dual-channel ABS, traction control, and a torque-assisted clutch to keep riding safe and fun.
5
Suzuki SV650
Many riders began their journey on a Suzuki SV650, and its legacy still lives on today. For over 20 years the SV650 has been the affordable middle-weight naked bike for those graduating from smaller displacements or know that they can handle a mid-sized engine. First seen as the budget Ducati Monster, over the years Suzuki has continued to improve the bike's overall performance and handling to create a bike that some say is the greatest of all time. As simple as you can get, the SV650 isn't stuffed with fancy electronic aids or unique gimmicks, but what you get is a bike that offers raw power and a guarantee that you'll be smiling ear-to-ear after every ride.
Comfort-wise, it isn't the best at absorbing bumps, and the seat height may be less approachable for shorter riders. Despite that, its handling is nimble and is ready to lean into the twisties when you want it to. The 645cc, DOHC, V-twin engine hasn't changed much over the years and produces strong, torque-rich horsepower. On the latest model, Suzuki claims 75 horsepower at 47.2 pound-feet of torque, which is significantly higher than later models. You can easily find a second-hand SV650 for cheap, which might be a better option as you are sure to have loads of fun on this bike, whatever model year you get.
Related: 2023 Suzuki SV650: Performance, Price, And Photos
4
Indian Roadmaster
If you are looking for a big touring bagger but hesitant to go Harley-Davidson, yet want something truly American, then the Indian Roadmaster is what you may be looking for. This premium touring motorcycle is the ultimate two-wheeler that ensures you comfortably get to your destination while still getting there in style. Indian's classic silhouette is paired together with modern features and a powerful engine to deliver a stunning long-haul tourer. The weight may be too much for newer senior riders, but experienced riders will find it much more manageable than other massive tourers in its class.
At the heart of the Roadmaster is the air-cooled Thunderstroke 116 V-twin engine, which produces 92 horsepower and delivers 126 ft-lbs of torque for exceptional power at low RPMs that is smooth to ride at any speed. Touring bikes thrive off their promise of providing comfort for all riders, and the Roadmaster is stacked with amenities to keep riders focused on the road. Heated grips and a plush 2-up seat with independent heat controls for both the passenger and driver spoil the rider making the journey, guaranteeing comfort no matter the distance.
3
Suzuki Burgman 650
Beginner senior riders may be more inclined to a more manageable two-wheeler, like the Burgman 650, Suzuki's premium maxi-scooter that has all the amenities of a tourer bike, in a scooter. This large automatic scooter is easy to ride and offers low enough ground clearance for anyone to ride. You can simply twist the throttle and away you go. The cozy laid back seating position and plush saddle, plus great suspension make the Burgman a great scooter, not only for commuting around town but also for long-haul riding as well.
The Burgman 650 boasts the largest scooter engine offered in North America with a 638cc parallel twin engine which is liquid-cooled and has fuel injection. Suzuki claims that the Burgman 650 produces 55 horsepower and 45.7 pound-feet of torque. Sadly the Burgman 650 was discontinued by Suzuki in 2018, leaving the smaller Burgman 400 to take its place.
Related: 10 Things We Love About the Suzuki Burgman 400
2
Yamaha Tracer 900 GT
A senior rider with slightly more experience and hopefully more money to spend would probably opt for a nice sports-tourer compared to a bagger. For one, they offer more speed, plus the comfy ergonomics and ride help prevent any chance of a sore back after long rides. The Yamaha Tracer 900 GT is a bike that has the right combination of power, handling, technology, comfort, and styling thanks to Yamaha's addition of sophisticated electronic engine management, semi-active suspension, and other improved features.
The best way to describe the Tracer 900 GT is everything we love about the MT-09 plus a lot of extra amenities to make the bike more comfortable for long-haul riding. Like the new MT-09, the latest Tracer 900 GT engine has been slightly bumped up from 847 cc to 890 cc, producing 115 horsepower and 64.5 pound-feet of torque. Yes, the Tracer 900 GT is more comfortable than the MT-09, but like its naked sporty counterpart, the high seat height makes it less desirable for shorter riders. The updated electronics also add to the weight, making it less approachable for new senior riders.
1
BMW K 1600
What do you do when you want a sports-tourer but with all the amenities and creature comforts of a bagger? The BMW K 1600 is the choice for you, more specifically the K1600 B (B is for bagger). BMW has long been seen as a brand for senior riders, as they are the ones that usually have enough spare income to afford one, and the K1600 promises all the performance, all the technology, and everything except the kitchen sink of features, to guarantee an amazing ride. Despite being 785 pounds, it is so easy to ride and surprisingly nimble. The lower seat height also makes it very approachable.
With an inline six-cylinder 1,642 cc engine, you are pretty much straddling a car engine between your legs. But with all that power, BMW has incorporated some of the best electronic aids to help even the most novice of riders easily handle this bike. BMW claims that the K1600 can produce 160 horsepower and 132.7 pound-feet of torque, which may be overwhelming for a new rider, but once you start rolling on the throttle, you will swear there is no other bike that can compare. Acceleration is smooth, and even if you twist the throttle too harshly, the onboard computer will adjust accordingly to keep you safe.
link